Nachos are pretty much always delicious, but are just as often not so healthy. This recipe combines the great taste of this beloved snack without making you feel too guilty for indulging. Crispy, oven-baked sweet potato slices take the place of chips, and when mixed with cheese, beans, jalapeños and more, they're just as good as any other basket of nachos you've ever had.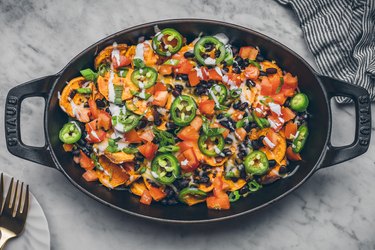 Things You'll Need
2-3 small sweet potatoes, scrubbed and sliced into ¼ inch rounds

1 tbs olive oil

¼ tsp kosher salt

fresh cracked pepper

1/2 cup canned black beans, drained and rinsed


1/2-3/4 cup shredded Mexican cheese

1/3 cup diced tomato

1 jalapeño, de-seeded and thinly sliced

sour cream or Mexican Crema, for drizzling
Step 1
Heat oven to 400°F. Arrange the rack in the center of the oven.
Add the sweet potato slices to a large bowl and toss with the olive oil, salt and a few cracks of pepper; continue to toss to coat.
Step 2
Arrange the slices on two large baking sheets lined with parchment paper.
Tip
Make sure not to over-crowd the slices or they will not crisp up.
Step 3
Place the pans in the oven and roast for 20 minutes. Flip and cook for an additional 5-10 minutes, or until the slices appear crisp.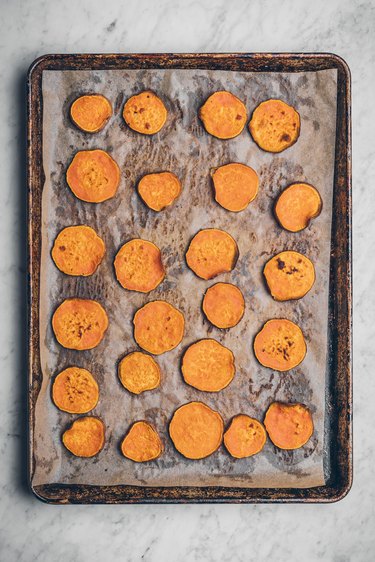 Step 4
To assemble the nachos, transfer the sweet potato rounds to a medium cast iron skillet. Scatter the beans and cheese over the top and place back into the oven for about 5 minutes, or until the cheese has melted.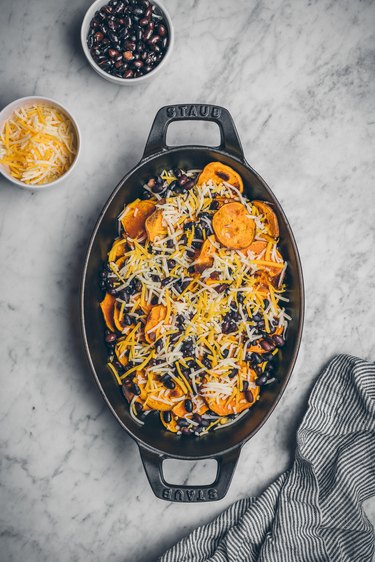 Step 5
Carefully remove from oven, garnish with remaining toppings and enjoy right away.