​​eHow may earn compensation through affiliate links in this article.​
Ding, dong! The witch is dead! Ok, so no witches were actually harmed in the making of this DIY. But this ​Wizard of Oz​ themed Halloween decoration will have trick-or-treaters thinking your house landed right on top of the Wicked Witch of the East!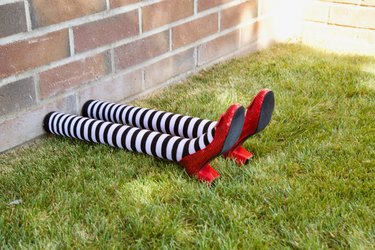 Things You'll Need
Step 1
Using a knife, carefully cut the pool noodle in half. Make sure each half is the same length so the legs aren't uneven.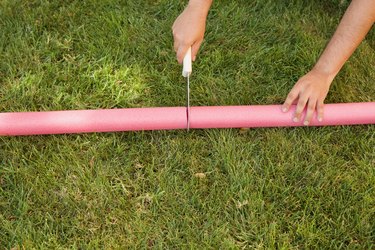 Step 2
Use the knife to cut a piece out of each noodle, creating an indentation. This will help them fit into the ruby slippers. Once you have removed the pieces, use the knife to cut almost all the way through the noodle at that point so the "foot" portion is able to bend at the "ankle."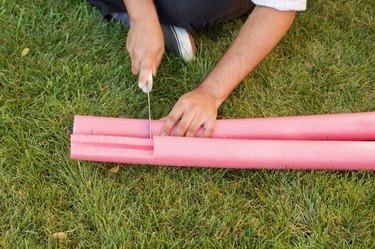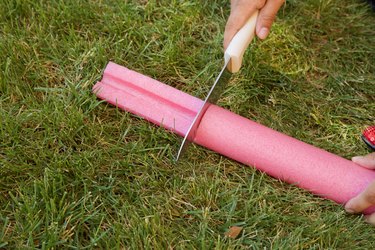 Step 3
Carefully pull the black and white striped socks over each noodle and make sure the round side of the foot is facing forward. Slide each foot into the ruby slippers so that they fit snuggly.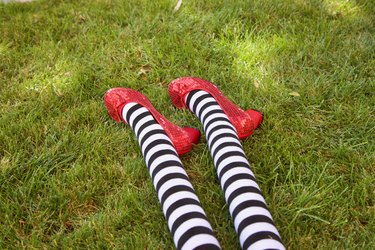 Step 4
This step is optional depending on where you will be placing your witch's legs. If you plan to place them in a grassy or otherwise uneven spot like we did, add a bit of tape to the top of each pool noodle to prevent the legs from rolling over once you've place them against the wall.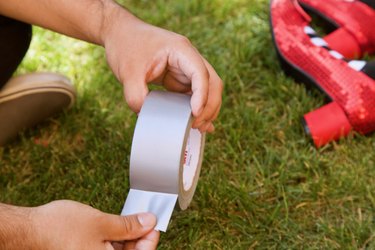 Step 5
Finally, find the perfect spot to place your witch's legs. Whether it's the side of your house or under you desk at work, this DIY will instantly transport anyone who sees them to the land of Oz — and they don't even have to click their heels three times!