If you're a fan of cheesecake, you'll love this mini cheesecake recipe with a seasonal twist. From the homemade apple pie filling to the caramel sauce topping, these treats taste just like autumn. Plus, you can easily double or triple the recipe, so it's perfect for using up those hand-picked apples. Read on to learn how to make mini caramel apple cheesecakes.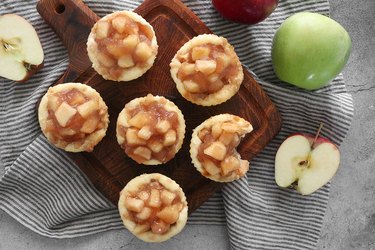 Apple Pie Filling
Things You'll Need
2 medium apples

Juice of 1/4 lemon

1 1/2 cups water

2/3 cups sugar

4 tablespoons cornstarch

1/2 teaspoon cinnamon

Pinch of nutmeg

Pinch of salt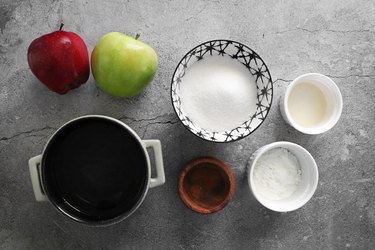 Step 1
Peel, core and chop the apples into small cubes.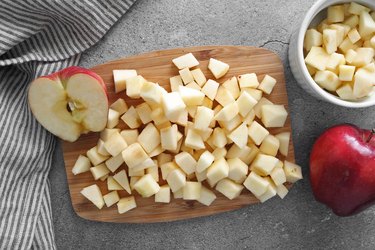 Step 2
In a bowl, toss the apples with lemon juice. Set aside.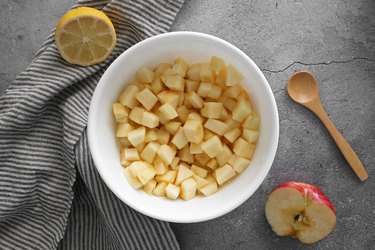 Step 3
In a medium saucepan over medium heat, combine the water and cornstarch. Mix until combined.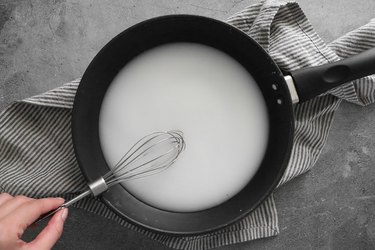 Step 4
Add the sugar, cinnamon, nutmeg and salt. Stir until the sugar dissolves. Bring to a low boil and cook for 3 minutes, mixing continously.
Step 5
Add the apples and reduce to a simmer. Cook until the apples are soft and tender, about 7 to 10 minutes. Set aside. The mixture will thicken as it cools.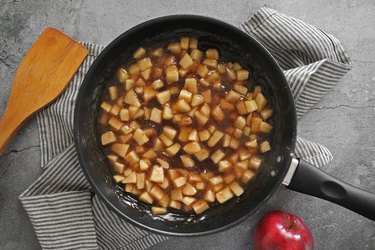 Mini Caramel Apple Cheesecakes
Things You'll Need
1 cup graham cracker crumbs (about 10 crackers)

6 tablespoons unsalted butter, melted

16 ounces cream cheese, softened

2 teaspoons vanilla extract

2 eggs

1/2 cup sugar

Cooking spray or butter

Apple pie filling

Caramel sauce

Silicone cupcake liners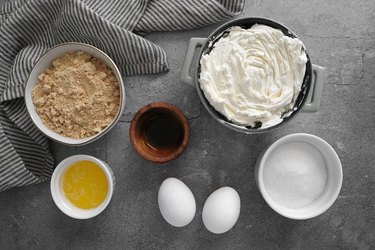 Step 1
Preheat the oven to 350° Fahrenheit.
In a bowl, combine the graham crackers and melted butter. Mix until the consistency is similar to wet sand. If needed, slowly add more melted butter.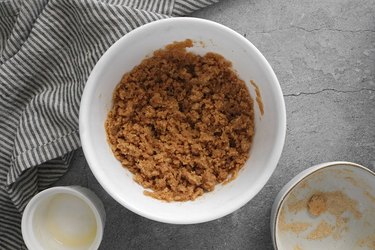 Step 2
Grease 12 silicone cupcake liners. If using paper cupcake liners, add to a muffin tin then grease. Scoop the graham cracker mixture into each cup, pressing down into an even layer.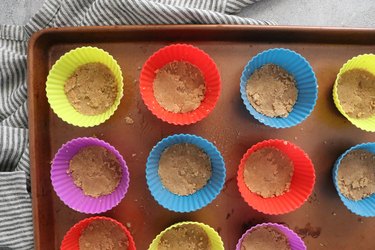 Step 3
In a large bowl, beat together the cream cheese and sugar. Add the eggs and vanilla extract. Mix until combined and smooth.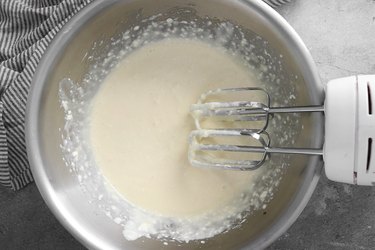 Step 4
Scoop into the cupcake liners, filling each cavity about 3/4 full. Carefully add a heaping tablespoon of apple filling to each cheesecake. Check to make sure the cheesecakes are not overflowing, then top with the remaining apple pie filling. Another option is to top the baked cheesecakes with leftover apple filling.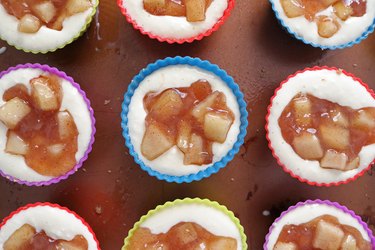 Step 5
Bake for 20 to 23 minutes or until the cheesecake portion has set. A toothpick should come out clean. Let cool to room temperature, then chill in the refrigerator for 3 to 4 hours.
If you're pressed for time, place the cheesecakes in the freezer for about 30 minutes.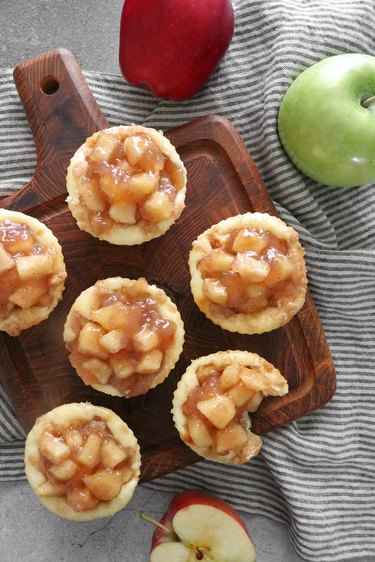 Drizzle the cheesecakes with caramel sauce and serve chilled.