Pepperoni pizza may be tasty, but sometimes, you might want to ditch the crust. Not only can it be time-consuming to make, but it's also often full of refined carbs. Why not use bell peppers instead? By stuffing these vibrant veggies with pepperoni pizza ingredients, you can get the same classic flavor without the crust. These stuffed pepperoni pizza peppers are gluten-free, kid-friendly and easy to make.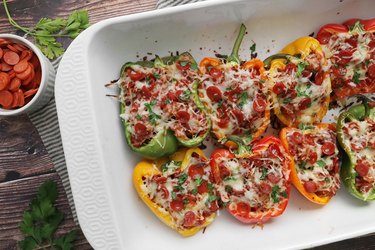 Things You'll Need
4 bell peppers

1/3 cup yellow onion, diced

Olive oil

1 pound sweet or hot Italian sausage (removed from casings)

1/3 cup mini or regular pepperoni

1 cup pizza or pasta sauce

2 cups shredded mozzarella cheese

1/2 tablespoon dried oregano

1/2 tablespoon dried parsley

Salt and pepper

Fresh parsley (for topping)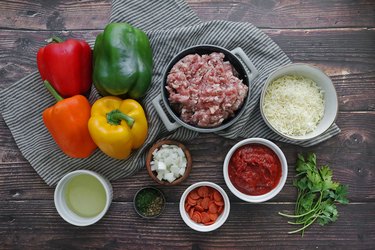 Tip
Taste your sauce first. If it doesn't have enough flavor, feel free to add more spices to the stuffing.
Step 1
Pre-heat the oven to 375° Fahrenheit. Meanwhile, cut the peppers in half lengthwise and remove the seeds.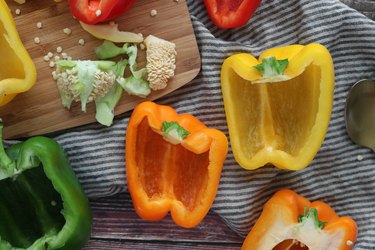 Step 2
Transfer the cut bell peppers to a large baking dish. Drizzle with olive oil and season with salt and pepper. Set aside.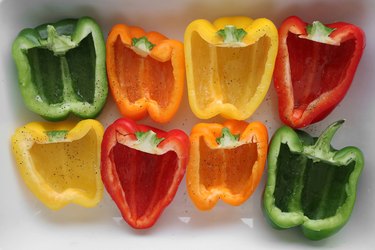 Tip
Pre-bake the bell peppers if you prefer a softer consistency. Simply bake them for 15 to 20 minutes before stuffing. Otherwise, you can skip pre-baking if you like a crispier texture.
Step 3
In a saucepan over medium-high heat, warm about 1 tablespoon of olive oil. Add the onion and cook until tender, about 5 to 7 minutes.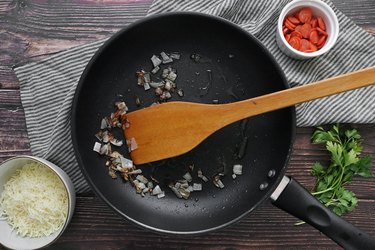 Step 4
Add the Italian sausage and cook until brown, about 10 minutes. Use a spatula to break up the meat. Once cooked, drain the fat.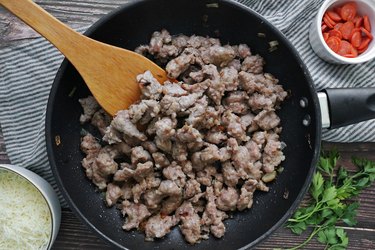 Step 5
In a large bowl, combine the cooked sausage with pizza sauce and 1 cup of mozzarella cheese. Add the spices, salt and pepper, to taste.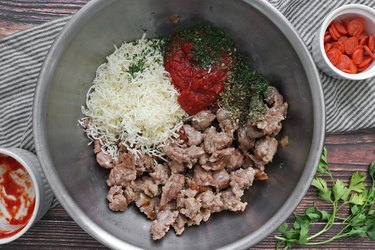 Step 6
Mix until the sausage is fully covered in pizza sauce.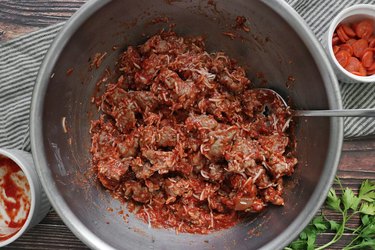 Step 7
Fill each bell pepper with the sausage mixture.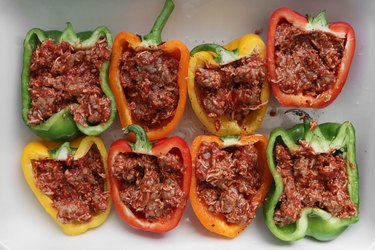 Step 8
Top with the remaining cup of mozzarella cheese (or more, if you'd like). Add the pepperoni.
Step 9
Bake for 25 minutes or until the cheese is bubbling and the peppers are slightly tender. Sprinkle with fresh parsley and bake for another 5 minutes. Serve and enjoy!