When you need to feed a hungry crowd, make this Texas sheet cake. It's moist, delicious and full of chocolate goodness! Plus, since the cake is baked in a sheet pan, it's ready in less than 30 minutes. The frosting is also wonderfully unique; it's made on the stove top and poured on the cake while warm. Once cooled, it turns into a mouthwatering gooey frosting that pairs perfectly with chopped pecans. Read on to make this classic Texas sheet cake recipe.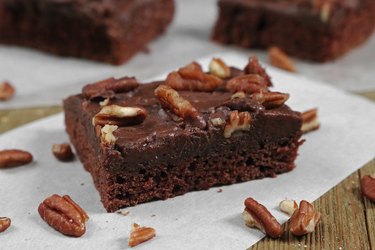 Chocolate Cake
Things You'll Need
2 cups all-purpose flour

2 cups granulated sugar

1 teaspoon baking soda

6 tablespoons cocoa powder

2 sticks (1 cup) salted butter

1 cup warm water

2 teaspoons vanilla extract

1/2 cup buttermilk

2 large eggs, lightly beaten
Tip
Be sure to use salted butter. The salt will help balance the sweetness of the cake.
Step 1
Pre-heat the oven to 350 degrees Fahrenheit.
In a large bowl, combine the flour, sugar and baking soda. Whisk well.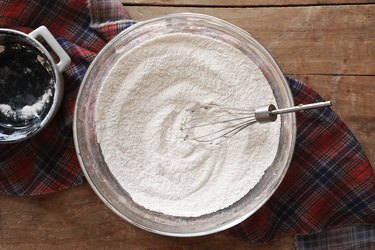 Step 2
In a pan or small pot over medium-low heat, add the butter, warm water and cocoa powder. Whisk until smooth and combined.
Step 3
Add the butter mixture to the dry ingredients and mix well.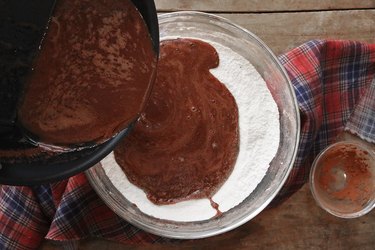 Step 4
Add the eggs, buttermilk and vanilla.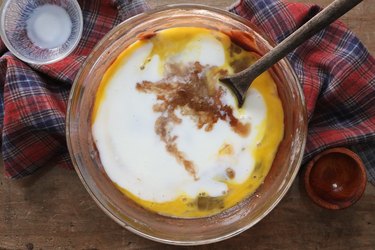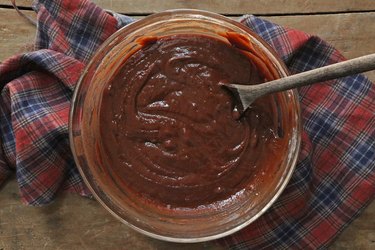 Step 5
Grease or line a 12"x18" metal sheet pan with parchment paper. Pour the batter into the pan, spreading it out into an even layer.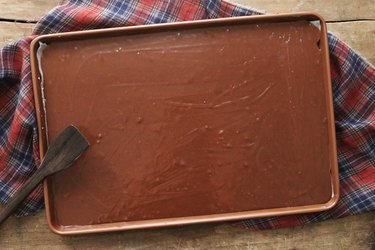 Tip
Some people use 9"x13" or 10"x15" sheet pans to make this sheet cake. If you decide to use a smaller pan, be sure to increase the baking time by a few minutes.
Step 6
Bake for 20 minutes or until a toothpick comes out clean. While the cake is baking, make the frosting.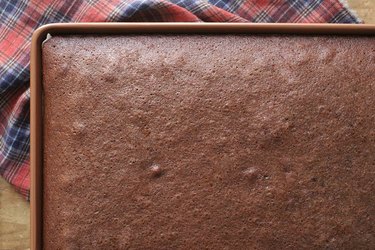 Chocolate Frosting
Things You'll Need
3 1/2 cups powdered sugar

1 stick (1/2 cup) salted butter

1/3 cup cocoa powder

1 teaspoon vanilla extract

1/3 cup buttermilk

1 cup chopped pecans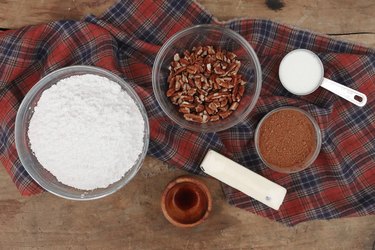 Tip
It's said a true Texas sheet cake is made with pecans. However, some people like to use chopped walnuts instead.
Step 1
While the cake is baking, melt the butter in a pan over medium heat. Once melted, add the buttermilk and cocoa powder and mix until combined.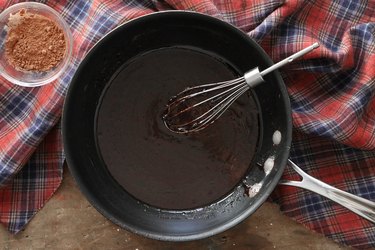 Step 2
While the pan is still on the stove top, slowly add the powdered sugar and vanilla extract. Mix until combined and smooth.
Meanwhile, remove the cake from the oven. Let cool until it's warm but no longer hot.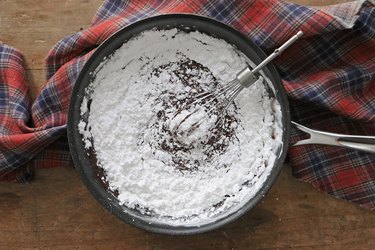 Step 3
Remove the warm frosting from the stove top. Spread it onto the cake and add the chopped pecans.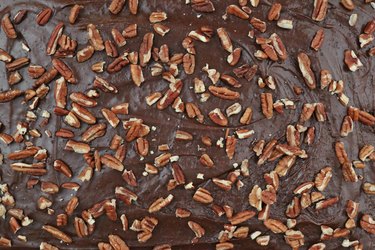 Once the cake completely cools, slice into squares and enjoy.