Mason jars just might take over the world someday. Is there anything they can't do? Using them strictly for food preserving is ​so​ 1900s. These days, mason jars are a must-have for cooking, crafting, decorating or simply adding charm to everyday life.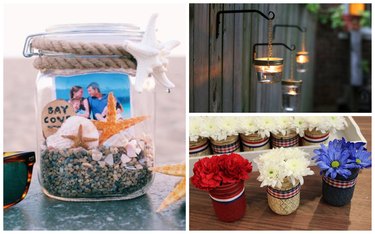 1. Turn Them into Glowing Lights
With some chain, gold paint and a handful of tools, these simple jars get turned into something made for hipster heaven. The trick is to choose different sized jars for true rustic appeal. Your patio will be very pleased.
2. Capture Beach Memories in Them
Family getaways at the beach are treasured occasions, and what better way to keep your memories than with a mason jar filled with a family photo, along with sand and shells collected on your vacation?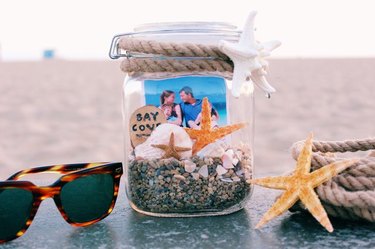 3. Create Pin Cushion Sewing Kits
A sewer's dream has been born. Useful, beautiful and Pinterest-ready, this sewing kit is loaded with vintage sweetness. As an extra bonus the tutorial comes with free button card printables in three designs. Perfect as a gift for Mom, a teacher or hey, how about yourself?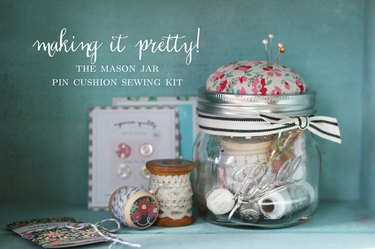 Score big points with the sports-lover in your life by serving a jar filled to the brim with brownie bites, topped off with one football-shaped treat nestled in grass. (Otherwise know as frosting.) Want to gain even bigger points? Include favorite team colors, either with a small flag, sprinkles or change the piping on the ball.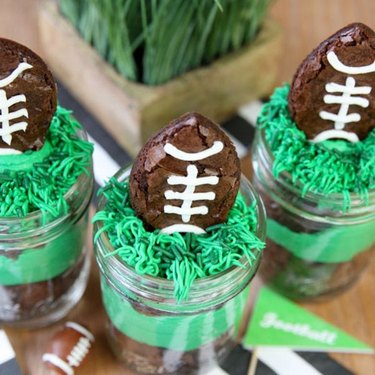 5. Style Them into Stunning Centerpieces
While this particular project features patriotic colors, you could bunch jars and flowers into any color and pattern depending on the celebration. It makes for a creative table topper, plus guests can take home individual jars as a party favor. Talk about a win-win.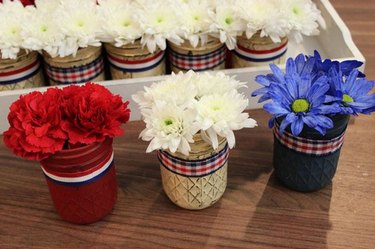 6. Turn Them into Citronella Torches
A modern twist on traditional tiki torches, these candles can add rustic ambiance to your backyard or they can keep pesky bugs away while camping. This DIY design is made with fiberglass wicks, which have some serious burning power.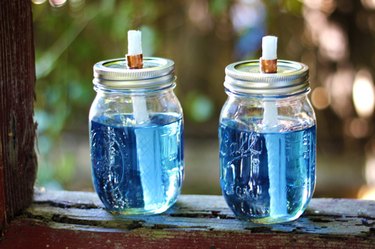 7. Pack Them for a Picnic
Fill a mason jar with your favorite picnic items and take it on the road. You'll be amazed about what you can fit in it. Seriously convenient and clever.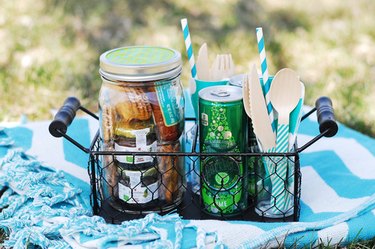 8. Make a Mason Jar Salad
Ladies and gentlemen, may we present one of the coolest ways to assemble your salad. We've got some simple tips and tricks that'll keep your greens from going soggy. This will be the hit of the office fridge!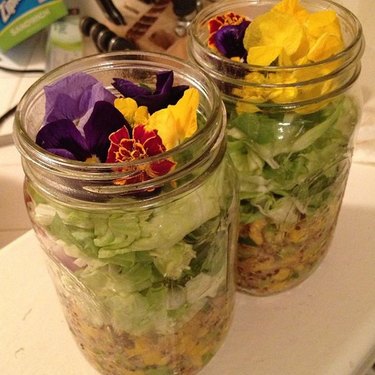 9. Create Decorative Candles
Why buy expensive candles from the store when you can make your own. It's easier than you might think, plus they have that personal touch that can't be beat. Of course putting them in a mason jar makes them all the more adorable.