Of all the make-ahead-meals I've incorporated into my life, nothing has had a bigger impact than these simple sandwiches. Just 20 minutes on a Sunday afternoon and I have breakfast sorted for the week. When I'm ambitious enough, I'll throw them in the oven right when I wake up, and by the time I'm ready to head for the door, they're piping hot and perfectly melty. On days when I'm not as forward thinking, a quick trip to the microwave makes it all come together. They are also the perfect camping breakfast, warming on the coals of the previous night's fire or heating up on the grates of a grill. No matter when I eat them, they always seem perfect.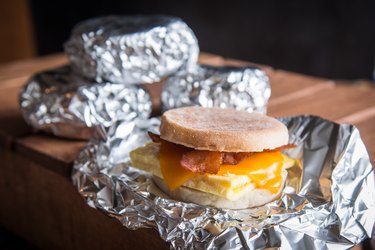 Things You'll Need
8 English muffins

10 eggs

1/4 cup milk

1/2 teaspoon salt

1/2 teaspoon pepper

8 slices bacon, cooked

8 slices cheddar cheese
Tip
Make it low cal! Substitute with whole wheat English muffins, turkey bacon, a thin slice of cheese, and instead of ten eggs, use 5 whole eggs and 6 egg whites.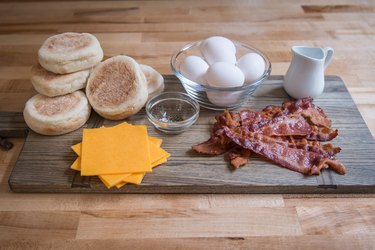 Step 1: Whisk the eggs
Preheat oven to 350°F. In a mixing bowl, whisk together the eggs, milk, salt and pepper until well combined.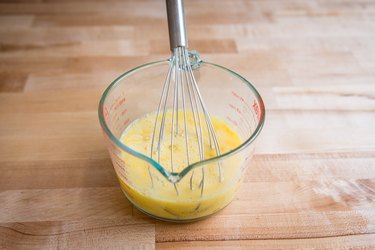 Step 2: Bake
Spray a medium sized (10"x15") cookie sheet with cooking spray. Add the eggs to the prepared pan. This is easiest if you place the pan in the oven, then pour the egg mixture into the baking dish. Bake until the eggs have puffed and the center is no longer wobbly, about 12-15 minutes. Allow to cool completely.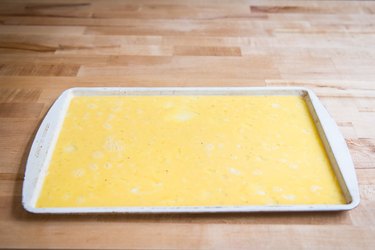 Step 3: Slice
Cut into 8 equal sized rectangles. If you prefer, you can use a circle biscuit cutter to cut out 8 circles.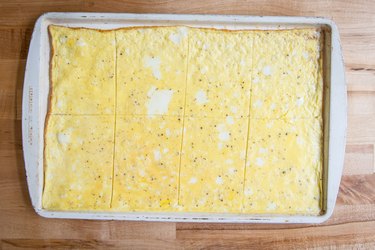 Step 4: Assemble
Spray a sheet of aluminum foil with cooking spray (this will help prevent sticking if you plan to reheat in the oven or on a campfire). Add the english muffin, then fold one egg piece onto the bottom bun, add a slice of cheese and a slice of bacon. Fold the foil over the sandwich into a tight packet. Add to a freezer size ziplock bag and freeze for up to a month.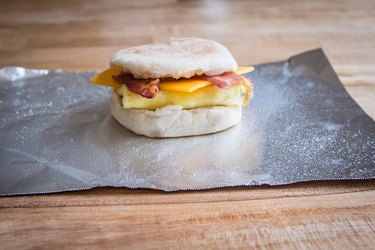 Step 5: Reheat options
Unwrap the sandwich from the foil, wrap in a paper towel. Microwave on high for 1 minute 30 seconds or until cooked through.
Add foil wrapped sandwich to a 350°F oven for 20 minutes or until cooked through.
I've made these for camping trips and reheated right in the campfire! Place the sandwiches on a grill, hot coals, or a rack over the campfire, turning occasionally until warmed through.