Keeping any space uncluttered and tidy creates a positive atmosphere, especially in the bedroom. Being able to switch off and relax fully every night is much easier in a calm and organized room. One of my pet hates is a cluttered bedside table. It's easy to let things pile up here (who wants to get back out of bed to tidy before the lights go out?), but there's an easier way to keep that clutter at bay.
This DIY bedside caddy is perfect for storing books, magazines, remote controls and even your glasses while you sleep. Its easy access makes it perfect for lazy organization. Neatly tuck it away down the side of the bed for an uncluttered and relaxing view.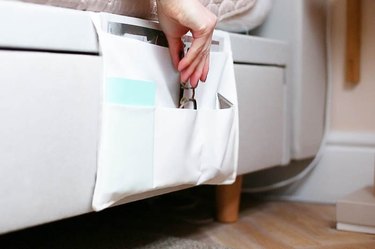 Things You'll Need
Stiff fabric like buckram

Sewing machine or needle and thread

Iron and ironing board

Strong adhesive Velcro strips
Step 1: Prepare the Fabric
Cut three pieces of fabric in these measurements:
40cm / 16" x 30cm / 14"

40cm / 16" x 45cm / 18"
42.5cm / 17 x 55cm / 22"
Fold the 40cm x 30cm piece in half along the 30cm length. Press the crease and set aside.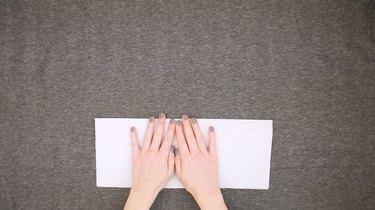 Fold the 40cm x 45cm piece of fabric in half along the 45cm length and press. Place the smaller piece on top of the larger piece so that all the raw edges meet at the bottom and the folds are at the top.
Step 2: Construct the Caddy
Sew two lines over the smaller piece, securing all four layers of fabric together at 14cm and 26cm from the left hand edge.
Press a hem into the final piece of fabric ¼" on each side (fold over twice to create a neat edge). Place this down right side up (hem not showing) and then place the other pieces of fabric right side down so that the pockets are not visible.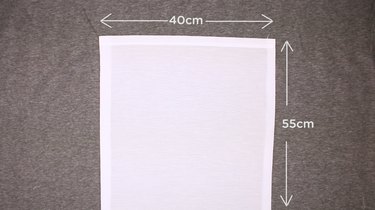 Sew all the pieces together along the edge.
Turn the fabric inside out so that the pockets are now visible and sew around the whole outer edge.
Using a strong adhesive Velcro attached to the top of the caddy and to the bed, position in place.
Your caddy is now complete and ready to keep your bedside space nice and tidy!