1 of 18
For many of us, clean eating is at the top of our New Year's resolution list, but finding simple yet tasty recipes can be a daunting task. Luckily, we've done the work for you. Check out this list of three upcoming food trends to look out for on Pinterest come 2018 and get a head start on a new year, new you!
2 of 18
Soup not only serves as delicious comfort food, but it's also a wonderful way to detox for the new year. Here are a few simple and healthy soup recipes you'll want to add to your 2018 menu.
Image Credit:

bhofack2/iStock/GettyImages
3 of 18
Miso Noodle Soup with Vegetables & Tofu
This miso noodle soup is loaded with B vitamins and only takes about 10 minutes to put together!
Image Credit:

Sala Kannan
4 of 18
French Lentil & Kale Soup
Looking to eat lighter? Make a large pot of this French lentil & kale soup, store it in the fridge and have smaller bowls as snacks. It's also the perfect light dinner and goes great with bread!
Image Credit:

Sala Kannan
5 of 18
Healthy Bone Broth Recipe (Using a Slow Cooker)
If you're looking for a health-conscious soup recipe that you don't have to constantly check on while it cooks, this bone broth recipe is a must-try. It also reduces inflammation and is rich in collagen and gelatin.
Image Credit:

Jennifer Farley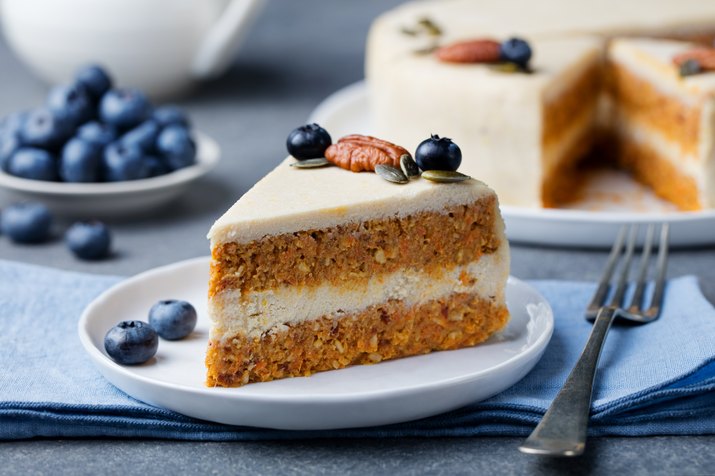 6 of 18
We've got some vegan desserts that are so delicious, you won't even be able to tell them apart from the original recipes. Remember, healthier eating is about moderation, so don't forget to treat yourself!
Image Credit:

Anna Pustynnikova/iStock/GettyImages
7 of 18
Vegan Avocado Chocolate Mousse
Yes, you read that title right. You can actually make creamy, chocolatey mousse using avocados! Check out the simple recipe and find out how it's done.
Image Credit:

Kristan Raines
8 of 18
Raw Pumpkin Swirl Cheesecake
While this raw pumpkin swirl cheesecake doesn't taste exactly like classic cheesecake, it will still leave you and your guests wanting more. After all, a new year is for trying new things, right?!
Image Credit:

Ashlae Warner
9 of 18
Refined Sugar-Free Frozen Fruit Pops
Store-bought pops may be quick and convenient, but they are typically packed with large and unhealthy amounts of sugar. Try this healthier alternative and substitute the refined sugar for more natural options such as honey or agave.
Image Credit:

Julia Mueller
10 of 18
No-Bake Pecan & Date Tart Recipe
This naturally gluten free recipe for no-bake pecan and date tarts is not only mouthwatering, but also leaves out all the processed sugar and butter. Sounds good to me!
Image Credit:

Ashlae Warner
11 of 18
Vegan Vanilla Bean Hot Fudge Sundaes
Image Credit:

Ashlae Warner
12 of 18
Easy Vegan Sugar Cookies with Buttercream Frosting
This simple recipe provides a vegan twist to an old classic, takes very little time to prepare and will melt in your mouth.
Image Credit:

Ashlae Warner
13 of 18
While not exactly a traditional dessert, sometimes you just want a tasty granola bar. Trade in the long list of sweeteners, preservatives and artificial flavors from boxed granola bars for this healthier DIY granola bar recipe alternative. Your body will thank you!
Image Credit:

Ashlae Warner
14 of 18
Trend #3: CLEANER DRINKS & COCKTAILS
If you're preparing to host a party or dinner and looking to add some healthier, zestier drink options to the menu, these easy-to-follow recipes are everything you never knew you needed.
Image Credit:

Jennifer Farley
15 of 18
It's no secret that drinking lots of water has a ton of health benefits, ranging from clearer skin to weight loss. If you prefer to hydrate with an added boost of flavor, you've got to try these 5 infused water recipes!
Image Credit:

August McLaughlin
16 of 18
Pomegranate Mojito Mocktails
These nonalcoholic pomegranate mojito mocktails are perfect for your under-21 party guests, or just those who prefer their beverages alcohol-free, and are booming with fruity flavor.
Image Credit:

Abbey Rodriguez
17 of 18
3 Refreshing La Croix Cocktails
These 3 vibrant and fruity La Croix cocktails will surely become your new go-to refreshments for hot days.
Image Credit:

Kristan Raines
18 of 18
Soothing Mint & Cucumber Elixir
This soothing drink is perfect for flushing out toxins, cleansing the palette and calming the stomach. Plus, it can be prepared with or without alcohol, depending on your preference!
Image Credit:

Jennifer Farley