If you love home design and delicious food, there's a good chance you've gotten lost in Ikea for hours. (We know we're not the only ones!) It's also totally worth it—especially if you end the day by ordering Ikea's world-famous Swedish meatballs. Luckily, you don't always need to trek to Ikea—and get lost amongst bedsheets—to enjoy this popular meal. Here's how to make it at home.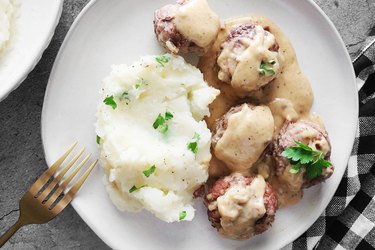 Things You'll Need
1 pound lean ground beef

1 pound ground pork

2 pounds potatoes, peeled and cubed

1/4 cup onion, diced

2 tablespoons heavy cream or milk

1 egg

2 and 2 tablespoons unsalted butter, separated

1 teaspoon salt

1/2 teaspoon ground white or black pepper

1 teaspoon garlic powder

1/4 teaspoon allspice

1/2 cup all-purpose flour

Fresh parsley, chopped (optional)

Cooked green beans (optional)

Lingonberry jam (optional)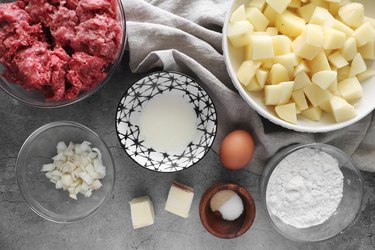 Tip
The original recipe uses white pepper. But if you only have black pepper, feel free to use it.
Step 1
Fill a large pot with cold water and add the potatoes. Make sure the potatoes are completely covered. Bring to a boil, then simmer for 10 to 15 minutes or until fork tender.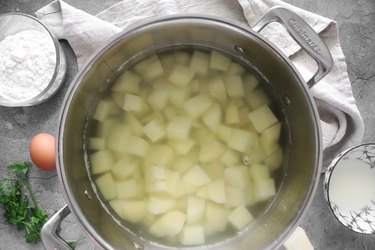 Step 2
Drain and transfer the potatoes to a large bowl. Mash up with a large fork or a potato masher. Alternatively, you can let the potatoes cool slightly and blend them in a food processor until smooth.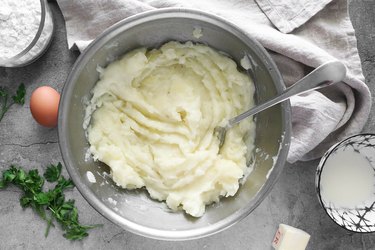 Step 3
Melt 2 tablespoons butter in a small saucepan over medium heat. Add the onions and cook until tender, about 5 to 7 minutes.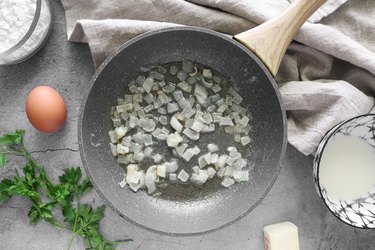 Step 4
In a large bowl, combine the beef, pork, egg, heavy cream, cooked onions, spices and 3/4 cup of mashed potatoes. Set aside the leftover potatoes.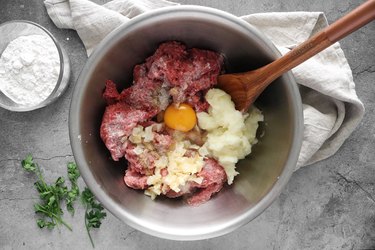 Step 5
Mix the meatball ingredients until thoroughly combined.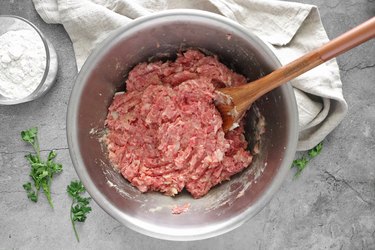 Step 6
Form the mixture into small spheres, about the size of golf balls.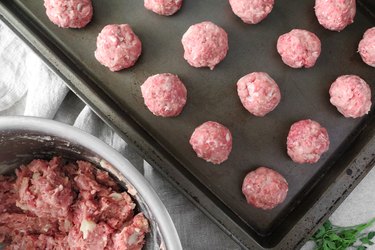 Step 7
Gently roll each meatball in flour until fully coated.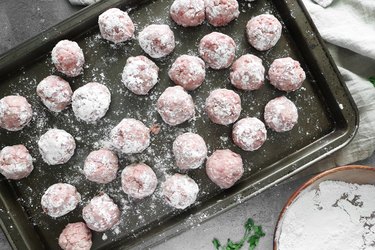 Step 8
Warm 2 tablespoons butter in a large skillet over medium-high heat. Add the meatballs and cook for 15 to 20 minutes, or until dark brown on all sides. Turn the meatballs every few minutes to ensure even cooking.
Depending on the size of your skillet, you may have to work in batches. Transfer the cooked meatballs to a dish lined with a paper towel. Cook the remaining meatballs, adding more butter as necessary.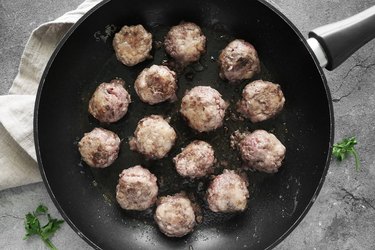 Tip
While the meatballs are cooking, prepare the remaning mashed potatoes according to your liking. Simply mix in heavy cream (or milk) until it reaches your desired consistency. Add salt, pepper, chives or your favorite spices.
Things You'll Need
1 cup beef broth (or broth of choice)

1/2 cup heavy cream

2 teaspoons soy sauce

1 teaspoon salt (optional, if using regular soy sauce)

1/2 teaspoon white or black pepper

2 tablespoons all-purpose flour

2 tablespoons unsalted butter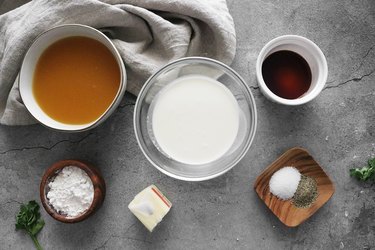 Step 1
Remove leftover chunks of meat from the skillet. Without wiping it off, return to medium heat and melt 2 tablespoons butter. Add 2 tablespoons of flour. Whisk to dissolve and cook for 1 to 2 minutes.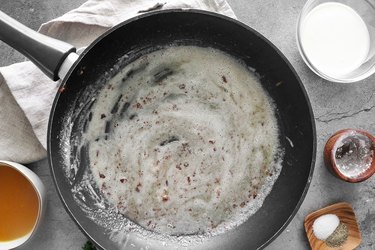 Step 2
Add the broth, heavy cream and spices. Whisk and simmer until thick, about 5 to 7 minutes. Make sure the sauce does not boil.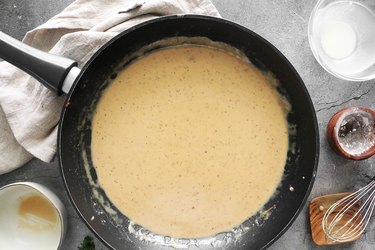 Place several meatballs on a plate and top with sauce. Serve with a scoop of mashed potatoes and green beans, like the original dish. You can also enjoy it with cooked vegetables of your choice.
Garnish with fresh or dried parsley, if desired. Add a spoonful of lingonberry jam if you're lucky enough to have it on hand. Enjoy!