Serve up this devilishly delicious pizza for a truly eye-catching Halloween party dish. But don't lose sight of it; the slices will disappear right before your eyes!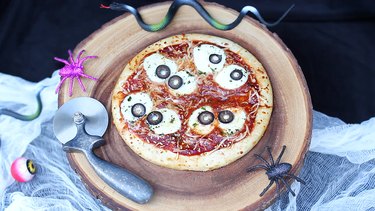 Things You'll Need
Ready-made pizza crust


Pizza sauce


Shredded Parmesan


Mini marinated mozzarella balls


Sliced black olives
Step 1
First, preheat the oven according to the package's instructions on your pizza crust. Then spread a layer of pizza sauce over the pizza crust.
Step 2
Sprinkle shredded Parmesan all over the pizza sauce and bake the pizza for 10 minutes, or until the cheese is slightly melted.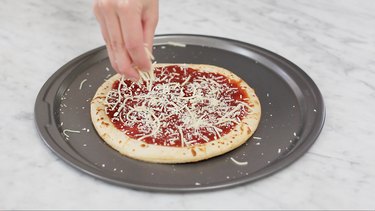 Step 3
Remove the pizza from the oven and place mini marinated mozzarella balls on the pizza, grouping them in pairs so they look like two eyeballs side-by-side. Bake for another 5 minutes to melt the mozzarella balls.
Step 4
Remove the pizza from the oven and place sliced black olives on top of the mozzarella balls to create eyes. Bake the pizza for another 2 minutes to allow the olives to bake into the cheese slightly.
Step 5
Remove the pizza from the oven. Slice and serve!