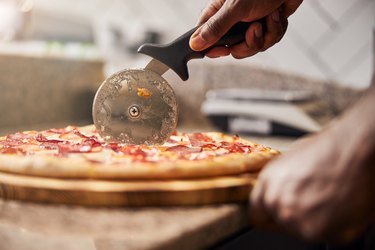 Arguably, there's nothing better than helping yourself to a slice of hot pizza. The trifecta of the cheese, toppings, and crust create a flavor combination unlike anything else. These days, more and more home chefs are making excellent pizzas in the comfort of their own kitchens, but some may take their pizza cutter for granted—or worse, not even have one on hand. If you've ever found yourself in that situation, you know that cutting pizza with a knife can be messy and rarely comes out looking good. The good news is, with many excellent pizza cutters for home use on the market, picture-perfect pizza slices no longer have to be the stuff of dreams (and restaurant menus). We've laid out what factors to consider when shopping for a pizza cutter and rounded up the best contenders so you can find one that works for you.
What to Consider When Purchasing a Pizza Cutter
​Pizza Cutter Type:​ Which type of pizza cutter is best? It's a debate that's echoed across pizza parlor counters for decades. But the truth is, they all work. The three main types of pizza cutters are:
​Rocker Cutters​: The rocker cutter is usually used by pizza establishments. Generally heavier than other types of pizza cutters, which allow the user to apply more even pressure, a rocker cutter can easily make a perfect cut on the first pass. That being said, they are large and take up a lot of room in a small kitchen. Also, they tend to be pricey and need to be cleaned in a sink, as they're too big to squeeze into the dishwasher.
​Wheel/Roller Cutters​: Wheel or roller cutters are also great for cutting pizza—with none of the size issues of the rocker cutter. However, while smaller, they aren't very easy to clean, due to the fact the cheese can wrap itself around the blade. Also, the blades on some wheel cutters won't be big enough to slice through the pizza on the first cut. But with a few design tweaks, this can be addressed.
​Pizza Scissors​: And finally, pizza scissors, or as some old-schoolers will call them, pizza shears, are the third type. While not considered the usual pizza slicing method, they guarantee a perfect slice every time, cutting through toppings and all but ensuring everything stays on the slice. Like wheel cutters, pizza scissors also have a few cleaning issues, but nothing an extra minute at the sink can't solve.
​Materials​: It should go without saying, but your pizza cutter's blade needs to be sharp. That can only be accomplished if the best quality of steel is used—but remember to watch your fingers. Also, the material of the cutter's handle matters, as you will need a good, comfortable grip to make those deep cuts. The right materials will allow you to stick your pizza into the dishwasher when you're done, so you may want to avoid anything made with cheap, softer plastics or an unnecessary nonstick coating.
​Size​: The size of your slicer will affect how easily, quickly and deeply you can slice your pizza. If you're looking at making fast cuts, you will need a larger blade surface on your slicer. There's no other way around it, unless you reinvent physics. You should also consider where you plan to store your pizza cutter. Rocker cutters are large enough that they may not easily fit into some kitchen drawers, whereas roller cutters are pretty compact. Pizza scissors fall in the middle as far as size goes, but the unique angle of the blades (coupled with the detachable spatula shovel that comes with some models) can make it a bit awkward to fit inside an already crowded drawer.
​Versatility​: While this article is all about reviewing pizza cutters, you can use these utensils to cut up a number of items, such as breads, herbs, fruits, vegetables, or anything else that will fit under the blade. If you want your pizza cutter to take on multiple roles, rocker cutters and roller cutters will probably be more versatile than pizza scissors because their less specific designs allow them to cut into thicker foods more easily.
​Maintenance​: Being able to maintain any tool means it should be easy to take apart, repair, and if needed, sharpen. Generally, rolling cutters will be harder to sharpen, repair and take apart, but it's not impossible to maintain some of them. Rocker cutters are probably the easiest to sharpen on a sharpening stone, however.
With these considerations in mind, here are the best pizza cutters in 2022: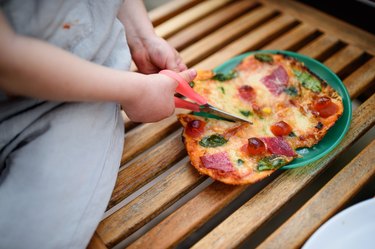 The Best Pizza-Cutting Scissors
Claiming to be the best thing since sliced bread, we're happy to say that Dreamfarm's Scizza is, in fact, great at slicing pizza. The Scizza has sharp cutting blades that make slicing through the toughest crust a breeze. But with its 5.9 inches of stainless-steel blades, that's no real surprise.
A great additional feature of the Scizza is its nonstick spatula shoe that picks up the slice with ease. It's heat-resistant up to 400 degrees Fahrenheit, so there's no need to worry about melted plastic in your food. This spatula foot also protects your oven tray or pizza stone from being scratched by the blade, which is a problem with roller or rocker cutters. And while Dreamfarm guarantees the blades won't dull, we think you could easily sharpen them with an off-the-shelf scissor sharpening tool.
The handles are easy to grip and comfortable, too. They come with a spring to help keep the blades open, as well as a handy clip to keep them together when stored away. While we can only imagine all the foods you could use the Scizzas to cut up, their specialty is definitely pizza and flatbreads. For some, the price of the Scizzas might be a bit steep, and while they're not technically the most expensive item on this list, they are a premium product for an established kitchen.
​Product Dimensions:​ 11.5" x 1" x 4" (L x W x H)
​Item Weight​: 7.8 oz.
​Materials​: Stainless steel and plastic
​Color Options​: 2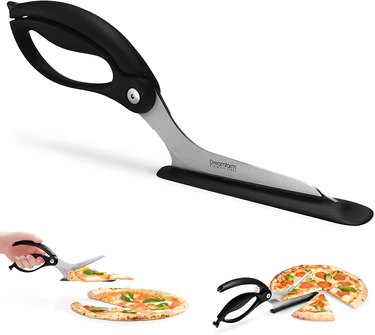 The Best Rocker Pizza Cutter
KitchenStar 18-Inch Black Non-StickPizza Cutter
When it comes to selecting a rocker pizza cutter, KitchenStar's quality stands head and shoulders above the competition. While other rockers on the market come with wooden handles, this simple pizza slicer is just one solid piece of 18/10 stainless steel that ensures you can slice your pizza in a jiffy. And if you're wanting to slice and dice up other foods, go right ahead; the manufacturer actually encourages it.
Designed for use in restaurants and pizzerias, it'll be able to handle any size pizza you throw its way. We selected the 18-inch version, but if you don't make your pies to this size, KitchenStar also offers 12-inch, 14-inch and 16-inch blades. The entire cutter is made from non-rust stainless steel and comes with a protective blade cover. The blade cover includes two handy holes so you can hang up the pizza cutter on a nail or hook if you want.
Another great feature is the ergonomically designed handle that helps the user grip the rocker firmly in their hand. As for the blade, if you feel like it has become too dull, you can easily sharpen it on a whetstone. Since it's made of stainless steel, it's also dishwasher-friendly. However, if you opt for the 18-inch model, you might find it difficult to fit, unless you put it on the top rack.
​Product Dimensions​: 18" x 0.95" x 4.25" (L x W x H)
​Item Weight​: 12.6 oz.
​Materials​: Stainless steel
​Color Options​: 2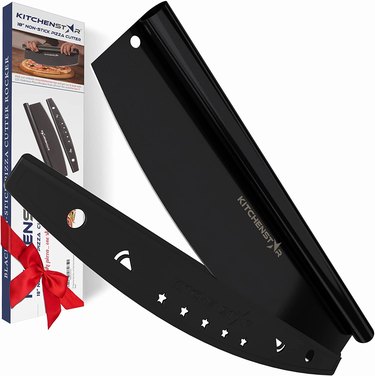 The Best Wheel Pizza Cutter
Kitchy Pizza Cutter Wheel
Fitting squarely in the palm of your hand (even though it's round), the Kitchy Pizza Cutter Wheel is a versatile pizza slicer that bucks the norm and is budget-friendly. While in the past, most pizza-cutting wheels didn't allow users to disassemble them, the Kitchy Pizza Cutter Wheel is easy to take apart in just three simple steps. It's also dishwasher-friendly, so you can toss all the parts in and forget about it until you need to slice up another pizza.
Its ergonomic handle allows the user to apply an impressive amount of pressure on the cutting blade, eliminating the need to roll back and forth, so all your toppings stay exactly where they should be—on the pizza. There's also a fantastic retractable blade guard to ensure you don't cut your fingers when rummaging through the drawer. It comes in three funky colors that make it a firm favorite amongst those who own it, and at its price point, this little slicer punches way above its weight.
​Product Dimensions​: 4.88" x 1.18" x 4.65" (L x W x H)
​Item Weight​: 4.9 oz.
​Materials​: Stainless steel and plastic
​Color Options:​ 3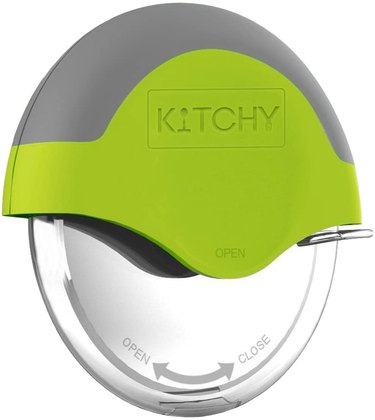 The Most Innovative Pizza Cutter
Pampered Chef Pizza & Crust Cutter
Who said you can't reinvent the wheel? Definitely not the inventors of the Pampered Chef Pizza and Crust cutter. With a 4-inch rolling blade, which is above average in diameter, what really separates this roller pizza cutter from the rest of the pack is its dedicated crust blade. A common problem with rolling cutters is that there's no real opportunity to get a run-up to slice through the crust in one go. With the crust cutter, there's no need for a run-up—just chop and slice.
The roller is also super sharp, with an amazing grip that arches in just the right direction, allowing the user to keep their wrist straight, which in turn makes for solid slices and no more wrist strain! While expensive, though some might think the crust cutter is a bit of a gimmick, we think it's a game-changer.
​Product Dimensions​: 9.5" x 4" x 2" (L x W x H)
​Item Weight​: 4.8 oz.
​Materials​: Stainless steel and plastic
​Color Options​: 1