The fusion of chocolate and hazelnut is simply a yummy match made in heaven. And if you've ever tasted Nutella, you'll understand — the mixture of sweet chocolate and buttery hazelnut is so addicting and good you just can't stop eating it. And with this recipe, you'll be able to make your own homemade version with minimal prep time. A plus? When you make homemade Nutella, you can avoid the preservatives and additives found in store-bought Nutella.
How to Make Homemade Chocolate Hazelnut Spread
Things You'll Need
1 cup raw, unsalted raw hazelnuts

6 oz. milk chocolate chips

4 oz. bittersweet or dark chocolate bar, finely chopped, (1)


½ teaspoon vanilla extract

¼ teaspoon sea salt


1 ½ tablespoons vegetable oil or hazelnut oil


2 to 3 tbs powdered sugar or another sweetener like maple syrup, optional

Baking sheet

Parchment paper

Food processor or high-speed blender

Spatula

Sealable container
Preheat oven to 350°F. Scatter the hazelnuts onto a baking sheet that has been lined with a piece of parchment paper. Bake, stirring one or twice, until the hazelnuts have browned and some of their skins have started to split, about 10 to 15 minutes.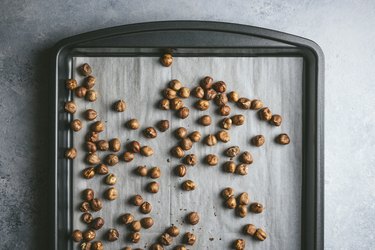 Carefully wrap the roasted hazelnuts in a kitchen towel and rub to remove their skins. Set aside.
Tip
Tip: Not all of the skin will come off which is OK. Simply remove as much as possible.
Place both chocolates in a medium, heat-safe bowl and melt in the microwave in 20 second increments, stirring each time until melted and smooth. Alternatively, you can also melt the chocolate in a double boiler. Once the chocolate has melted, set aside.
Add the hazelnuts to a food processor or high-speed blender like a Vitamix, and blend for 2 to 3 minutes, or until a glossy nut butter forms. Use a spatula to scrape down the side of the food processor or blender as needed.
5. Add the Melted Chocolate
Add the melted chocolate, sea salt, and vanilla to the hazelnut butter, and blend. While the food processor or blender is still on, slowly pour in the oil. Continue blending for an additional minute. Once all ingredients have been added, taste and add in 2 to 3 tablespoons of powdered sugar as needed, then blend for a few seconds until combined.
Tip
If you want to lighten your homemade Nutella recipe, swap your sugar for coconut sugar. Coconut sugar is known for being low-calorie and cholesterol-free.
Transfer the hazelnut-chocolate spread into a sealable, preferably glass, airtight container. The spread will seem a little thin at this point, but it will thicken as it cools. Store at room temperature for up to a week. Yields about 1 ½ cups.
How to Use Your Homemade Nutella
Spread over your favorite carbohydrates, like toast, crepes, or waffles for a tasty treat.
Drizzle over fruits or ice cream for an extra sweet treat.
Add to baked goods, like brownies, for an extra decadence.
Tip
If the spread gets thick after a few days, simply place it in the microwave for a few seconds, or place the jar in some hot water. This will bring the spread back to a smooth, spreadable consistency.