Take matters into your own hands and create that special embroidered denim piece you've been seeing everywhere lately. No need to pay a huge price or spend hours for this trendy new look. Just grab some jeans from your closet, a 1/2-yard of embroidered fabric, sharp scissors and a little iron-on adhesive paper and you'll be all set.
Things You'll Need
Iron-on adhesive paper

Sharp scissors

1/2-yard of embroidered fabric (or reuse an embroidered thrift store garment)

Iron

Pins

Needle and thread

Cute shoes (optional)
Step 1
Cut a 14-inch by 16-inch piece of iron-adhesive paper and a matching piece of embroidered fabric.
Step 2
Preheat your iron to a silk setting with NO steam.
Step 3
Place the shiny side of the iron-on adhesive paper onto the wrong side of the embroidered fabric.
Step 4
Run the iron over the back of the paper until it adheres to the fabric.
Step 5
Once the paper is fastened, carefully cut around the embroidered designs you'd like to use on your jeans.
Step 6
Lay out the embroidered pieces on your jeans to create a design you like.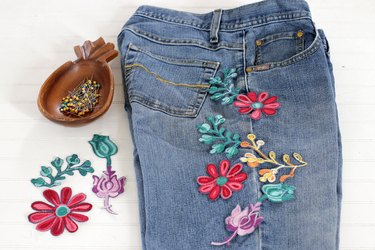 Step 7
Peel off the iron-on adhesive paper backing.
Step 8
Place the shiny side of the embroidered pieces onto your jeans and pin to hold your design in place.
Step 9
Adhere the embroidered design to your jeans by pressing with the iron. Be sure to remove the pins before you start to press.
Step 10
If you're concerned that the embroidered pieces might come off in the wash, you can use a needle and thread and hand sew around the edges to hold the embroidery in place.