When fruit is in it's peak of season and you find yourself with too much of a good thing, cobblers come to the rescue every time. What better way to use up that delicious fruit than to whip up a yummy cobbler? Although I love just about any cobbler thrown my way, my favorite happens to be a peach cobbler.
This recipe makes eight to ten servings -- making it ideal for a dessert at your next get together. Serve it up with a scoop of vanilla ice cream or homemade whip cream and you can't go wrong with this classic treat!
Things You'll Need
4 cups of peaches

1 tablespoon lemon juice

1 teaspoon ground cinnamon

1 3/4 cups of granulated sugar

1 cup of all purpose flour


1 tablespoon baking powder

1/8 teaspoon salt


1 cup of milk

1/2 cup butter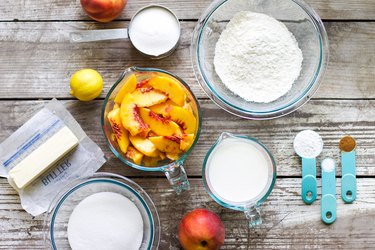 Step 1: Preheat oven to 375 degrees.
Step 2: Melt butter in the oven.
Place the butter in the bottom of a 9 x 13 pan and place into the oven while it preheats allowing the butter to melt completely.
Step 3: Bring peaches to a boil on the stove.
Combine peaches, 3/4 cup of sugar, lemon juice, and cinnamon in a small saucepan and bring to a boil, stirring frequently until the sugar is dissolved (about 5 minutes.)
Step 4: Make batter.
Combine flour, 1 cup of sugar, baking powder, and salt in a large bowl and whisk to combine. Slowly add in milk and stir until it becomes a batter.
Step 5: Pour batter over butter in the pan.
Pour the batter over the butter in the pan and do not stir.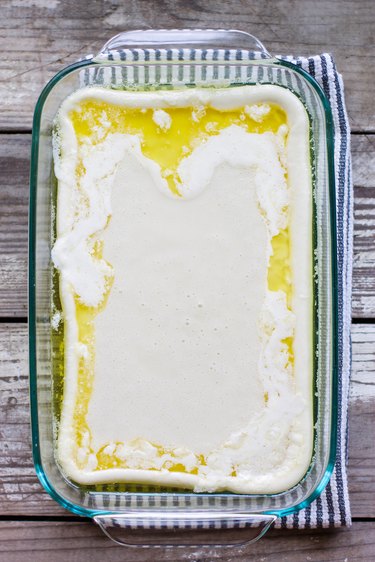 Step 6: Pour peaches over the batter into the pan.
Pour the cooked peaches over the batter evenly and do not stir.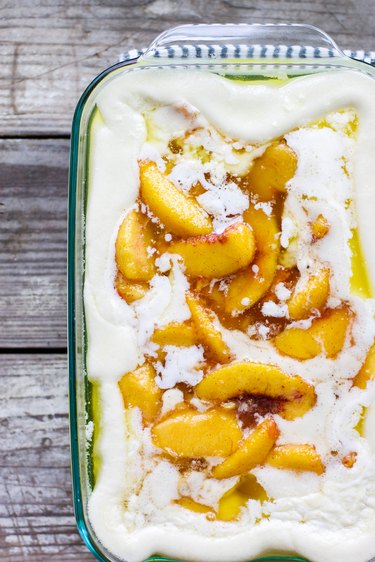 Step 7: Bake for 35 to 45 minutes until golden brown and bubbly.
Place immediately into the oven and bake for 35 to 45 minutes until the batter is golden brown and peaches are bubbly. Remove from the oven and serve immediately with vanilla ice cream or whip cream.
You need to try out this recipe and be prepared to wow your guests with how delicious this homemade peach cobbler really is!