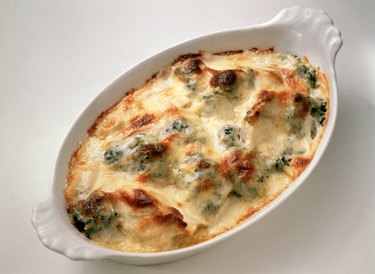 Corelle brand dinnerware is manufactured using a special process that increases its durability. Corelle offers warranties for its products against breaking and chipping under normal household use of one year, three years and five years, depending on the line of dinnerware.
Corelle Brands Under Warranty
Corelle Vitrelle® and Vitrelle2® are specially manufactured glass materials that fall under Corelle's limited break-and-chip warranty. Corelle Vitrelle & Vitrelle2 products are sold under the names Corelle Livingware, Corelle Lifestyles, Corelle Impressions and Corelle Vive, which include a three-year limited break-and-chip warranty. Corelle Ultra carries a five-year limited break-and-chip warranty. Corelle Hearthstone dinnerware includes a one-year warranty. They will replace the item if their terms in the Use and Care have been followed.
How to Replace
To obtain a warranty replacement or ask about the warranty program on a particular product, call Corelle's Consumer Care Center at 800-999-3436 from 8 a.m. to 6 p.m. Eastern time Monday through Thursday and 8 a.m. to 5 p.m. on Friday. Or contact them online at www.CORELLE.com.
Limitations
The warranty covers normal household use that occurs when you prepare, serve and clean your Corelle dinnerware. It does not cover damage that occurs during moving, storage, camping, or commercial or institutional use.