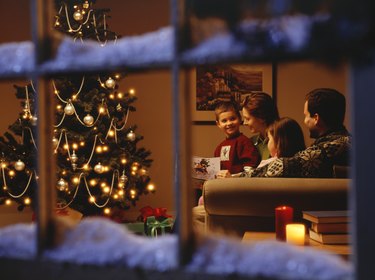 Not long ago, a TV commercial prominently featured a Christmas light display in which the lights flash in harmony to music. This was controlled by an intricate computer program that would be beyond most of us. However, companies such as Mr. Christmas now offer fairly simple systems, so that the less technically advanced among us can have our own musical, Christmas light display.
The Controller
The Lights and Sounds of Christmas control unit plays a number of Christmas songs. It has six outlets with circuits coordinated to the music. This means you can plug six different zones of Christmas lights or displays into the controller.
The controller features options for choosing all songs or opting between traditional carols and more orchestrated versions. There are 20 songs in total. You can also opt to have the music play while the lights glow steady, blink in harmony as one or flash in zones to match the music. Retailers, such as Sears, often offer the unit for less the $100 during the Christmas season.
Set Up
You will want to place the controller in a central location to your Christmas display. Be prepared to configure extension cords to reach from your different zones to the controller and to tie different display areas into one primary cord. The controller is very capable of handling electrical loads, and you can run a large number of lights into each circuit.
You will also want to experiment with which zones you plug into which of the six locations on the controller. Some are more dominant in the choreographed display than others. The sound of the music does have a tendency to suffer at the louder levels. An amplification system may be desired.
Maintenance
The Lights and Sounds of Christmas controller has plastic, hinged covers that protect the outlets and the control panel from the weather. It is a well-sealed unit that works well outdoors during winter weather conditions. A 20-amp, 125-volt fuse is easily accessible at the bottom of the unit; if you overload the unit, it is a quick fix to replace the fuse.