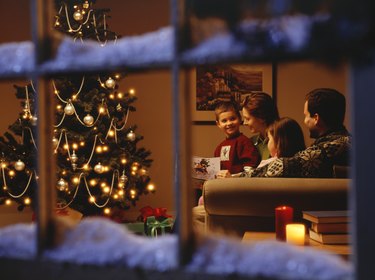 Christmas light shows draw crowds every year, whether in person or by going viral online. While more complicated light shows require programming outside the realm of most people's expertise, products such as Mr. Christmas Lights and Sounds of Christmas and other light show control systems streamline the process.
Lights and Light Control Systems
Putting together a light show requires Christmas lights, a light control system, a software system and a sound system. When selecting lights for your show, consider using LED lights as opposed to the traditional string lights. LED lights are ideal for light displays because they conserve energy, allowing you to connect more lights. They also produce very little heat, cutting down on the risk of overheating.
There are three types of light control systems from which you can choose, each with its own benefits: fully built systems, kits and DIY control systems. Fully built systems are best for beginners and require no electrical work, such as the Mr. Christmas Lights and Sounds of Christmas system.
Light show kits are similar to fully built systems and tend to be less expensive. However, they require some work to put together and are not as simple to use as a fully built system. A DIY light show control system allows total customization; however, time and engineering experience are required to put one together.
Light Show Software and Sound Systems
To program the light display to music, you will need light show software. If you're not a programmer, there are open-source software options that make programming accessible, such as Vixen and xLights. By using light show software, you can break the song into segments and program the lights.
There are a few options available when selecting a sound system. If you decide to hook up an outdoor speaker, you should set a time window for the light show and notify your neighbors. If your neighbors disapprove, you can broadcast over an FM frequency instead and place a sign in the yard so people know which channel is needed.
How to Use Mr. Christmas Lights and Sounds of Christmas
If you're in a time crunch or if programming the light show yourself is too complicated, a fully built system may be your best option. Mr. Christmas Lights and Sounds of Christmas systems may be the best fit. Mr. Christmas Lights and Sounds of Christmas is an all-in-one outdoor light display and sound synchronization system that streamlines the light displays. Best for those who want to create a dazzling light show without the programming expertise needed for such displays, the Mr. Christmas Lights and Sounds of Christmas can synchronize yard lights to 20 holiday songs.
Remember that the system has a capacity of up to 420 watts. Before installing, total the wattage of each strand of lights that will plug into the system to ensure you do not exceed 420 watts.
To operate the system, plug each strand of lights into the unit and then plug the unit into a GFCI-equipped outlet. Flip the switch to the "on" position. Once it is turned on, select a song from the book by pressing the button. The lights will then turn on and continue to play throughout the song's duration. The unit will cycle between 12 songs before it stops. To stop playing, press the "power off" button.