The fedora hat, a perennial classic, is available today in a variety of materials and styles. Patterns for making these hats at home range from very easy to extremely difficult. The more traditional men's style fedora is made from thick wool felt that has been molded on a hat block. If you don't have hat-making equipment, you can opt for a crocheted, knitted or cloth fedora.
Origin
A fedora, or Tyrolean, is a soft felt men's hat with a brim and a vertically folded crown. Originating in "Fedora," an 1882 play by Victorian Sardou, this headwear has developed a cult following over the years and is now worn by both men and women.
Sizing
Before deciding on a pattern you must determine your hat size. Using a measuring tape, measure your head at the widest part above your ears. Round up to the nearest 1/8 of an inch and use a sizing chart to convert this measurement to your hat size.
Types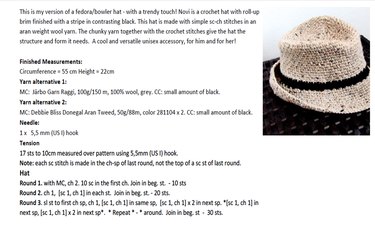 The simplest patterns involve knitting or crocheting the fedora out of wool and felting it. These patterns are somewhat forgiving and leave you a little room for "fudging" it if the shape doesn't turn out exactly how you want it. Knit or crochet fedora patterns provide step-by-step instructions for knitting the hat, felting it and shaping it. You can shape knit hats with your fingers when they are wet and add a stitch or two inside to correct small imperfections in the hat's form. You don't need any special tools, and it's possible to finish your fedora in an afternoon.
You can also opt to make your fedora out of heavy cotton, linen or other stiff fabric. These patterns are a bit more labor-intensive and require you to cut and sew fabric, linings and stiffener. If you are just learning to sew, this type of pattern is not recommended, because working with heavy fabrics can be challenging.
A variety of fedora hat-making kits, videos and patterns are available for the serious milliner. In order to make a traditional felt fedora you will need fur felt or heavy wool felt, a hat block and tools such as a steamer, glue, brushes, millinery wire, drawing pins and sewing equipment.