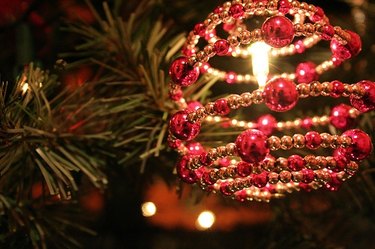 Beaded ornaments add sparkle to a tree. Crafting your own beaded holiday ornaments allows you to create an unusual color palette for Christmas, such as teal and gold. You may already have beads in your house that you can turn into Christmas ornaments with no additional expense.
Beaded Ornaments
A beaded butterfly ornament will almost look like an antique brooch on the tree. Use a twisted, elongated silver bead as the body with a glass bead on top for the head. Wire an antenna to the body by using bugle beads. Create the wings from more bugle beads and wire formed in two triangular shapes. Attach the body to the wings with more craft wire. Make a hanger for the ornament or wire the butterfly directly to the tree.
Beaded icicles allow you to use leftover beads from other projects. You may want to take apart pieces of broken jewelry to salvage the beads and add meaning to your Christmas decorations. According to decorating expert Martha Stewart, start with 20-gauge wire cut to the desired length. Make a loop at one end to hold the beads in place. Thread various sizes and colors of beads onto the wire and secure them by making another loop.
Create personalized beaded ornaments by making them into a monogram. Make a special ornament like this for each family member or give these crafts as gifts. Start out with a very thin wire and thread it with tiny silver or gold seed beads. Twist the wire to form a cursive initial and make a loop at each end.
Kids can help create beaded ornaments. Make a candy cane shape by alternating red and white beads on a pipe cleaner. Bend the pipe cleaner at each end so the beads don't slide off. Form the pipe cleaner into a candy cane shape and top off with a ribbon to hang the ornament from. Try a variation of this ornament by forming the pipe cleaner into a circle and using green beads for a wreath decoration.
Beaded Embellishments
Embellish existing holiday ornaments for an easy bead project. Start out with a regular glass ball ornament and place a rubber band around it. This forms a straight edge for you to work above. Use craft epoxy to glue a line of beads above the rubber band. Layer several sizes and colors of beads on top of each other or accent the beads with pearls and crystals. Take the rubber band off after the epoxy has dried.
Decorate the inside of glass or plastic balls with beads. Remove the ornament hanger and fill the ball with your favorite beads and glitter. You may be able to find a simpler plastic version made for crafts. This plastic ornament flips open from the center so you'll be able to use larger beads. Hide the opening with a horizontal ribbon.