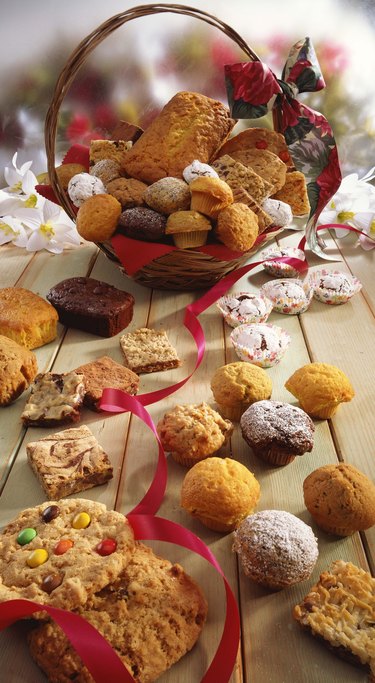 The great thing about themed gift baskets is their flexibility. You can customize the contents of the basket to suit any occasion. While they are perfect for gift-giving occasions, such as showers and holidays, they are also well suited for fundraising events such as raffles and auctions. Start with your basket's purpose in mind, then choose a theme. Your only real limits are your imagination and your budget.
Theme Baskets as Personal Gifts
Theme baskets are a great way for a group to go in together for a gift-giving occasion, such as a baby shower or retirement party, with each person contributing one or two items for the basket. You can also give baskets for birthdays and holidays. A spa-themed gift basket would be great for Mother's Day, while a car care basket might be just the thing for Dad's birthday. A basket full of handmade crafts makes your gift unique and personal, while a date night basket is a thoughtful gift for your significant other. You can also tailor a basket around the recipient's hobbies, such as baking, camping or golf.
Theme Baskets for Raffles and Auctions
When putting together a themed basket for an event, such as a charity auction, the contents should appeal to a broad audience. The organization or occasion can help you determine a theme for your gift basket. For example, a gardening-themed gift basket would be an obvious choice for a fundraiser for a gardening society. You could use a watering can as your basket and fill it with things like seed packets, gloves and small gardening tools. Theme ideas for a school raffle could include: a food-themed basket, with nonperishable food items, small kitchen gadgets and restaurant gift cards; a family fun theme, with things like zoo or museum passes, movie tickets and board games; or a book-themed basket, with a selection of books, bookmarks, tea and gift cards to a bookstore.
Theme Baskets for Kids
Children's gift baskets are great for holidays like Easter and Halloween and are perfect for birthdays as well. If you know a child has a particular interest, such as dinosaurs or unicorns, you can use that to create your theme. You can also build the basket around the child's favorite movie or a hobby such as model car building. Other theme ideas include sports, favorite snacks, animals or crafts.
What You Will Need
**Basket or other container:** Don't limit yourself to traditional woven baskets. Almost any sizable container will work. For example, use a sand pail for a beach-themed basket or a picnic basket for a food- or wine-themed basket.

**Contents:** These are the actual gifts to put in the basket. Having a central theme makes it easier to select a variety of items. For example, a teacher appreciation basket might contain cute office supplies, a mug and a coffee shop gift card.

**Filler:** Think of the traditional Easter basket with its artificial grass. The purpose of filler is to bulk up the basket while making it look aesthetically pleasing. Filler can be something simple, such as shredded paper, cellophane or tissue paper sheets. Or, you can incorporate the theme of your basket. For example, a house-warming basket might contain rolled-up dish towels as filler.

**Decoration:** Like filler, decoration is optional, but it makes the basket look more appealing. It could be something as simple as a bow on the handle of the basket. You can also wrap your basket in a transparent material, such as cellophane. This makes the finished gift basket look more polished while also securing the basket's contents.