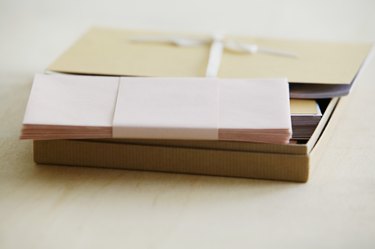 Sending out invitations means more than just going to the store and buying the first paper you see. In fact, a variety of paper choices are available and the one you choose should meet the occasion perfectly. Knowing which paper suits the occasion you are celebrating is just one part of choosing the right paper for your invitation.
Budgeting Your DIY Project
Picking the best paper for the occasion is certainly important, but there is always another element to consider. The better qualities of paper can run substantially higher in terms of cost. For example, 100 percent cotton card stock costs the most, but a 25 percent cotton blend cuts the cost by around 30 percent. Vellum or crepe cards stock runs a little less than linen. Recycled card stock is often quite moderate in price, but it can run high,depending on fiber and level of elegance. Cotton blend and heavy card stock are the least costly.
For Convenience' Sake
The most convenient type of paper to use for invitations is heavy card stock. This paper can be found in office supply stores, grocery stores, drug stores, crafts stores and online stores. It is the most common kind of paper used for printing your own invitations. It is preferred by many because it is the cheapest and easiest to work with due to its durability.
Creating with Classy Cotton or Linen
Cotton or linen paper is perfect for invitations when you want to express a sense of elegance. While the heavy card stock is fine for birthday or holiday parties, cotton and linen are preferable for weddings. Another plus for this kind of paper is lasting power. If you are interested in keeping the invitations for years down the road, cotton and linen are going to last much longer than regular card stock.
Lighten Things Up With Sheer Elegance
To really give the invitation a sense of formal elegance, go with crepe, the ultra-thin sheets attached to linen or stock invitations. Print the invitation directly onto the crepe paper, usually made from vellum -- and often called "vellum" in stores -- or use the nebulous quality of crepe as an adornment to place over the invitation printed on the cotton, linen or card stock behind it.
Recycled Paper
An invitation to an environmentally conscious party would be inappropriate if printed on expensive pulp stock. You don't have to be an active environmentalist to use recycled paper, of course. Do your part to save a few trees by printing on recycled material. This can also be a way to save your invitations for years because most recycled papers are more durable than regular paper stock.