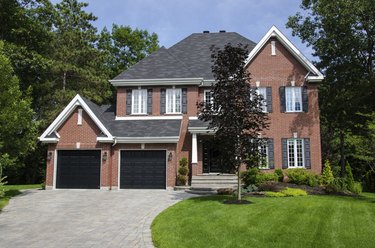 Freshly painted brick has a clean, finished look that can highlight architectural features, bring new life to home siding or accent the trim or skirting of your home. Choosing colors for brick exteriors is similar to the considerations for other home exterior surfaces.
Be a Good Neighbor
You probably don't want to be the sore spot in the neighborhood with the neon orange house. Choose colors that suit your personal tastes, but also show consideration for your neighbors. Look down the block. Are the homes all light colored? If you want something darker, try something half-way in a earthy green, for example.
Landscape
What types of bushes, trees and perennials do you plant each year? If you have cascading, bosomy clematis, pink rose bushes and vines, choose a neutral paint color, such as a soft putty or cream that will enhance their blossoms, not compete or clash with them. If you live in a hot desert climate you may have a yard filled with rock and a few cactus. Choose paint for your brick that complements the color tones in your rocks or your patio, such as the shade of light desert sand.
Climate
If live in a hot or tropical climate, you won't need to worry about seasonal colors and their impact on your painted brick colors. But if you live in a cold, or four-season climate, consider how your paint color will look when it's in the midst of a 4-foot snowbank or surrounded by yellow and orange leaves in September and October. Choose a soft shade of sage green, off-white or cream. You can go brighter with a muted barn red (as they do in Scandinavian countries), as long as it's balanced with white trim around the windows and doors.
The Roof
The color paint you choose for your exterior brick should complement your roof color. Roof colors come from the shingles, and most shingles come in neutral or dark earth tone colors. Shingle colors can also be combined to create a variegated look, which opens up the possibilities for paint choices for your exterior brick. If your shingles are a mix of moss green, deep gray and terra cotta, choose paint in one of these colors to create a sense of harmony.
Color and Size
If your house has brick siding, or if it has a decorative brick feature on one section of the house, you can choose paint colors that will make certain features seem larger or smaller. Light colors make a painted area appear larger; darker colors make it seem smaller. If you want a brick feature to recede, paint it in a neutral color. Bright-colored paint calls attention to itself, so if you want a feature to stand out, use bright colors.
Home Style
The style of your home will dictate the right color choices, to some degree. A French Colonial home would look sickly with bricks painted in muted yellows and browns. An arts and crafts-style home invites more color variations, however. Visit a paint manufacturer's website and explore their visualization tools to see which colors best suit the style of your home (see Resources).