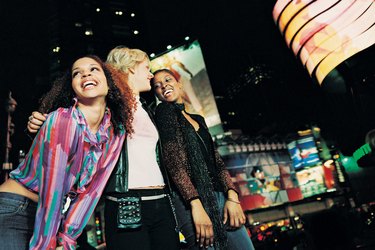 Bachelorette parties have become so synonymous with Jello shots and male strippers that a Christian woman may cringe at the idea of having one. Historically, though, they had a quite innocent purpose: to congratulate and encourage the bride-to-be in this new phase of her life. Even the male version was meant to be a celebration of his entrance into manhood, not a hangover-maker. If you'd like to have a bachelorette party that honors God and doesn't give you a tequila headache, you can.
Stay In
A cozy night in with all your best girlfriends is a way to celebrate your upcoming marriage, especially during the chilly months of the year. Choose a few recipes you'd like to try and spend the evening cooking together. Divide the work by teaming up some of your friends to make appetizers while another team makes the main course. Pick your favorite comfort foods, or make expensive treats like lobster tails and steak. After the meal, settle down to cups of coffee, tea or hot chocolate and bring out the gifts. Round the night off with your favorite romantic movie and a few bags of popcorn.
Hit the Town
If staying in isn't quite your style, a night on the town can be just as enjoyable. Reserve a table at a nice restaurant and invite your guests out for a meal. If your group isn't too big, do a restaurant crawl by going to one venue for starters, another for entrees and a third for dessert. Or skip the meals altogether by going to a trendy restaurant and ordering desserts only for everyone to try. Make it fun by trying out dishes you normally wouldn't. Then head back to your place to exchange gifts and relax with coffee. Ditch tradition altogether by throwing a bonfire, roasting oysters, and trading stories with your closest friends.
Have Fun
Participating in games or crafts is a good way to break the ice and get everyone talking. Your girlfriends can create a quiz for you and your intended to take to see how much you really know about each other. They should get his answers prior to the party and compare them with yours. Or have a wedding day prep by trying on the dress, different hairstyles and makeup to choose the perfect combination. Have each guest bring her favorite photo of you and your guy to create a collage. What matters most are that your bachelorette party reflects who you are, you're comfortable throughout the event, and nothing you do compromises your interest in pleasing God.
Girl Chat
Your bachelorette party is also a good time for having a heart-to-heart discussion about marriage with your married girlfriends. Prior to the party, write down a list of questions and concerns you have, such as how to calm the jitters on the wedding night and how to adjust to blending two lives together. These questions can prompt honest advice as well as funny stories of your friends' misadventures in their own marriages. Do this in a comfortable space, not in public, and make sure everyone has coffee or tea to drink.