Clothing and accessories for a western-themed party can be found in your own closet, a thrift shop and even a dollar store. Western wear usually involves a cowboy or cowgirl look involving jeans, chaps, cowboy hat and boots. Girls can wear the same, but may opt for a prairie look which may include a prairie skirt with lace up boots and a flouncy, ruffled top.
Jeans and a Prairie Skirt
The base of your western themed outfit should include bottoms of either worn jeans or a ruffled prairie skirt for women. You can wear the jeans you may have in your closet or go to a thrift store to find a pair that have a 'used' look. For a prairie skirt, look for one that is long enough to reach your ankles. It should be neutrally-colored or have a western pattern or stripes. Don't wear anything with modern colors like bright pink or lime green.
Choose a cowboy hat to add a strong western flair to your western-themed outfit. A used hat may be found at your local thrift store or western wear shop. Western wear shops have hats that may range from $100 to a few hundred dollars. If that is out of your budget, look for western hats a large discount shop like Walmart where they are made of straw and are much more inexpensive but will give you that western look. For women, a hat is not needed. If you have long hair, sweep it up in a bun or twist.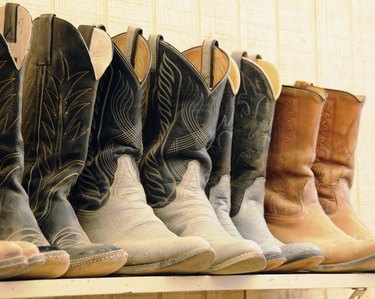 Add a strong touch of western flair by buying a pair of cowboy boots, chaps and spurs. Boots and chaps are found in western shops and in equestrian stores. They are usually made of leather, so expect to pay a couple of hundred dollars. More inexpensive versions may be found at your local thrift store. Spurs can be attached to your cowboy boots and will add a fun jingle to each step you take at the party.
Finalize your western look by adding a red bandana worn around the neck. For a fun touch, you could go to a toy store or dollar store and look for a toy horse on a stick that kids use to pretend they are riding a horse. This accessory could become your trusty steed that every cowboy needs by his side.