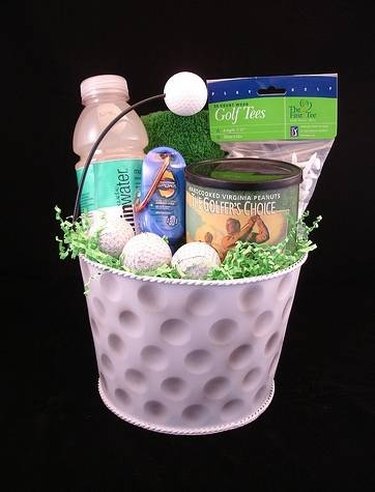 Golfers love any gadget, accessory or object of inspiration that adds to their enjoyment of the game. Gift baskets filled with golf essentials make ideal gifts; especially if they're personalized. Casual golfers are notorious for fumbling to find the basic tools needed to play the game, such as balls, tees, towels and markers. Stuffing a tin bucket or a basket with golf paraphernalia will delight the gift receiver.
Contain Yourself
Realize that this gift project requires the purchase of golf items (i.e., ball, tees, gloves) for success. Select a basket/bucket appropriate to the size and theme of the golf gift and its contents. Use green tissue paper to enhance the gift opening and further project the golf theme. Consider wrapping the entire gift package in see-through plastic to facilitate transport and ease recognition of contents.
Play It Safe
The most thoughtful golf-themed gift baskets could contain items that players wouldn't think to carry with them. Loving touches could include: insect repellent, sanitizing wipes, sweat-proof sunblock lotions, sunglasses, allergy medications and miniature first aid kits.
Pick Your Shots
Keep items contained in the gift basket as specific to the recipient as possible. If gloves are purchased, for instance, note whether the player is left- or right-handed. Also, recognize that golf products for men and women often have drastically different looks to them: Accessories for women are generally sized smaller and include pink accents. If time and budgets allow, seek out specific brands/affiliations that the recipient favors. Something as simple as a plastic divot tool with a college logo can afford a thrill enjoyed over and over. And if gift recipients have a noted preference for certain brands of equipment, the process of filling a gift basket couldn't have more obvious clues.