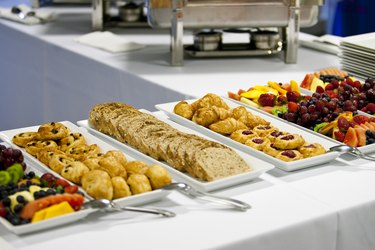 What is on a continental breakfast menu? It's a loose term that usually describes a buffet-style spread of assorted foods. Items that hold up well for several hours work best because it's a buffet. Include a mix of old favorites and creative continental breakfast menu recipes to keep things fresh.
Include Assorted Pastries
Pastries are a classic on a continental breakfast menu list. They're easy to display on a tray, and people love them. Who doesn't want to start the day with a sugar rush? Donuts, cinnamon rolls, Danishes, sweet breads, coffee cake and muffins are standard breakfast fare.
Get creative with your continental breakfast by ditching the grocery store pastries in favor of ‌gourmet bakery‌ ‌or homemade goodies.‌ Add some unusual pastry options, such as popovers or scones. Try unusual flavor combinations like maple donuts with bacon crumbles on top.
Include Breads and Bagels
Sticking with the grain family, breads and bagels offer a quick savory option for breakfast eaters. Don't grab the cheapest loaf of white bread you can find. Head to the bakery, where you can find ‌hearty gourmet loaves‌ ‌of bread.‌ If your continental breakfast spans the brunch hours, look for herb or asiago cheese breads to include.
Choose quality bagels as well. Assorted flavors appeal to different taste preferences. Serve the bagels with ‌cream cheese‌. You can find many different flavors of premade cream cheese, from sweet fruit or cinnamon flavors to savory smoked salmon or chive flavors.
You can also have a toaster or two on hand in case guests want to toast their bread and bagels. Include assorted toppings such as butter, nut butters and jams.
Typical continental breakfast ideas are carb heavy and not necessarily the healthiest of options. That's why it's a good idea to add plenty of fruit to your continental breakfast spread. ‌Whole fruits‌, such as bananas, apples and oranges, are easy to grab and go. You can also offer cut fruit or a fruit salad, either in bulk or packaged in individual to-go cups.
Another classic that works well for a continental breakfast is cereal. A kid-friendly option is to set out the individual boxes of breakfast cereal. Bulk containers of cereal are a more economical option. ‌Granola‌ is a welcome change to the standard flakes and puffs.
For a to-go option, consider ‌cereal bars‌. Whether prepackaged or homemade, the bars are quick and easy to eat. You don't have to worry about milk to go along with them, either.
You can also offer a ‌hot cereal‌ option, such as oatmeal or grits. Include various toppings for the hot cereal. Some ideas include:
Fresh fruit
Nut butters
Dried fruit
Honey
Brown sugar
Chopped nuts
Chia seeds
Chocolate chips
Cinnamon or other spices
Milk, cream or other dairy
Continental breakfasts usually have cold selections, but you can add a few hot options in steamer pans. Common options for hotel breakfast buffets include scrambled eggs, bacon, sausage and biscuits and gravy. If you don't want to mess with keeping food hot, prepare and peel ‌hard-boiled eggs‌ as a protein option.
Another easy option is a ‌yogurt bar‌. Set up a large bowl of plain or vanilla yogurt along with fresh fruit, granola, nuts and other yogurt toppings. For to-go service, put out individual yogurt cups.
Continental Breakfast Ideas for Beverages
Assorted beverages round out any good continental breakfast. Coffee, tea, milk, water and juice are common options. ‌Individually packaged beverages‌ such as single-serve juice and milk cartons make it easier for people to take the drinks with them, but you can also use cups and large containers of drinks.
Step up your game with unusual offerings, such as ‌pineapple or guava juice‌ in addition to the standard apple and orange. Another creative option is to offer seltzer water to mix with the juices for a fizzy choice.
Coffee also benefits from an upgrade with ‌gourmet roasts‌ and flavored coffee options. Put assorted flavored creamers in individual containers on ice for custom flavoring. Iced coffee is a popular option for summer continental breakfasts.