You could serve pastry or muffins for a continental breakfast along with coffee or tea, and consider it done. But, in the 21st century, the definition of a continental breakfast goes beyond bread and includes other foods that are light-tasting, small in portion size, or easily prepared without much cooking. Once referring only to small breakfasts served on the European continent, as opposed to hearty English breakfasts, a modern interpretation of the concept gives you lots of choices.
The Bread
Choose one type of bread for a continental breakfast, such as croissants or Mexican bolillos, or go with an assortment of muffins, bagels, pastries, English muffins and bread sliced for toast. As a special treat, bake seasonal nut bread, such as pumpkin bread in the fall, cranberry-and-orange nut bread in winter or lemon poppy-seed bread in spring.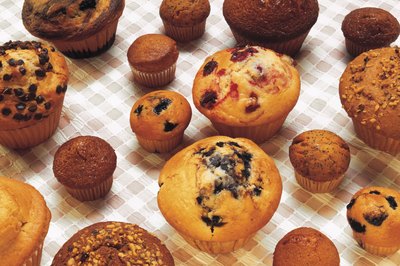 Fresh Fruit
Most motels and hotels in the U.S. and abroad serve fruit as part of a continental breakfast. The fruit is typically cut, mixed fruits; pieces of melon, perhaps draped with prosciutto at an upscale hotel; or whole apples and bananas at a American motel off the interstate highway. At home, serve the fruits that hotels typically don't, such as, fresh blueberries, strawberries or kiwi in season, or whole tangerines in the wintertime.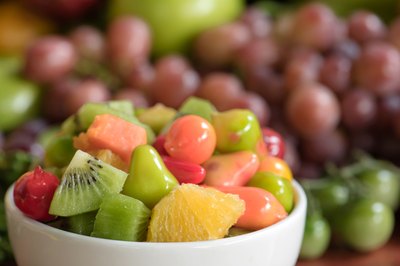 Cooked Eggs
On continental breakfast menus, eggs usually aren't cooked to order; instead, they are cooked ahead of time, with guests serving themselves. Hard-boiled eggs are typical, but some establishments add flourishes, such as the University of Colorado-Boulder's Dining Services' breakfast, which includes sliced red onion, capers and cornichons alongside the egg. A breakfast strata or quiche made the night before and served at room temperature is suitable for an expanded continental morning traditional breakfast.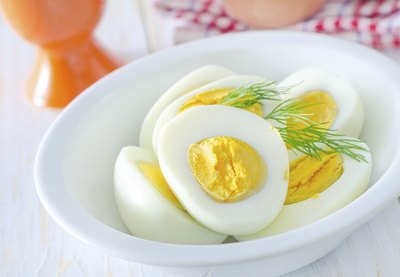 Heartier Foods
Cheese, peanut butter and yogurt add substance to a light breakfast. At a typical American accommodation, the peanut butter is in a small plastic container, while cream cheese is served in the same type of container. In some European countries, such as Germany, the cheese is sliced and served with an array of cold cuts. Yogurt is also served in different forms, with small commercial containers typical in the U.S. and bowls of plain yogurt in Germany.
Cereals and Granola
The Radisson Hotel in La Crosse, Wisconsin, serves its own homemade granola, and the University of Colorado-Boulder Dining Services offers assorted toppings that students can add themselves. Either granola or cold cereal, in individual boxes or in large dispensers, are a normal part of any continental breakfast. A continental breakfast in your home rises above the norm if you make your own granola or provide unusual toppings, such as toasted, shredded coconut, roasted pepitas or sunflower seeds or a tropical mix of dried and cut apricots, mangoes and sugared ginger.