If you have a small kitchen, then storage is probably a challenge for you. Making sure to maximize every space in a small kitchen is really important. These kitchen organizing ideas can help you utilize your space more efficiently and make you think outside of the box a little when it comes to storing pantry items and utensils too.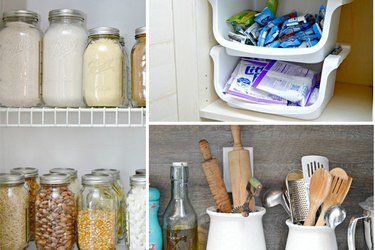 Use Mason Jars to Store Dry Goods
Mason jars work great to store dry goods. Not only do they seal the contents of the jar air tight, but you can also see the contents of the jar. Your dry goods will last longer, you can actually see what you have in your pantry and you can easily see when you need to restock an item.
Tip
Trace the lid of the jar on some kraft paper and insert under the top lid ring to label your jars with ease. You can even add a date to the label so you know when an item needs to be discarded.
Use Tiered Shelves to Store Canned Goods
Invest in tiered shelves to store canned goods in your pantry or cabinets. This will allow you to see what you have available and quickly grab what you need for meal preparation instead of digging through stacked cans that are hiding one another.
Use Stackable Bins to Store Loose Snack Items
Stackable bins can be purchased at most dollar stores and work great for corralling loose items like snack foods, fruit snacks and breakfast bars. They nestle onto one another and give you more use of vertical space. They also make it easy for kids to grab what they need without help.
Store Large Utensils in Crocks
Use crocks or canisters to store large utensils on your kitchen counter. This comes in handy if you have limited drawer space in your kitchen. It also makes it easier to grab what you need while prepping and cooking meals.
Use a Shelving Unit as a Kitchen Island
Need extra storage and counter space? Use a shelving unit to add extra counter and storage space for things like cookbooks, mixing bowls and kitchen appliances that you use often.
Tip
Baskets are a great way to hide and store towels and extra kitchen items that are lying around. They can fit on shelves, on the top of your refrigerator and in your cabinets too. Also, use removable hooks to store things like colanders and pots and pans.
You Might Also Like...