Things You'll Need
Padded satin hangers

Storage containers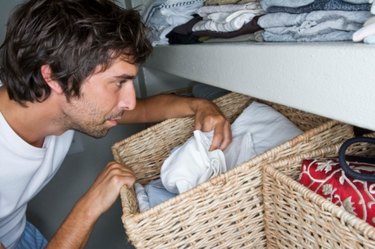 When organizing and cleaning out your closets, don't forget about the pajamas. Store the bedclothes just as neatly as your other items to create an easy-to-navigate closet. You can maximize a small closet space by folding or hanging the pajamas in an orderly fashion. Take extra care with pajamas featuring delicate fabrics such as silk, satin or lace. If you come across pajamas you haven't worn in years, donate them to a charity to save even more space.
Step 1
Hang all delicate pajama items such as lacy or silky lingerie on padded satin hangers. Hang the items in an out-of-the-way area in your closet so they don't get snagged.
Step 2
Fold pajamas made of flannel, fleece, cotton and all other casual fabrics. Keep pajama sets together by placing the folded top inside the folded shorts or pants.
Step 3
Place all of the folded pajamas together on an easy-to-reach shelf. Organize the pajamas by fabric or color if you have a large number of items. Place heavier items on the bottom of the pile and lighter items on top.
Step 4
Pack away pajamas that are out of season, such as a flannel nightgown in summer, or pieces that you don't wear often. Save space by storing the items in an empty suitcase, a wicker basket or plastic storage container on a top shelf or far corner of your closet.