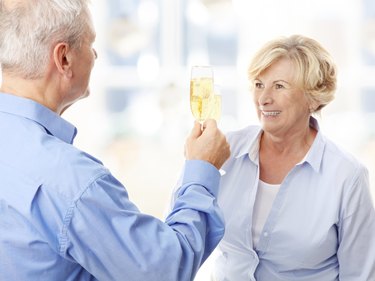 Planning a 50th anniversary party is no small task, but it is a rewarding one. After all this is the Golden Anniversary, the biggest milestone as wedding anniversaries go. Begin by considering the couples' tastes and personalities -- are they fun loving people who relish humor or are they sentimental or reserved? In hosting a 50th wedding anniversary you are giving a gift to be remembered and one that reminds the couple of the many wonderful years they have shared. Plan to collect ideas from those closest to the couple and from the couple themselves (without giving away any party secrets).Then brainstorm ideas and whittle down your party ideas to a program that is sure to please honorees and guests.
Live Entertainment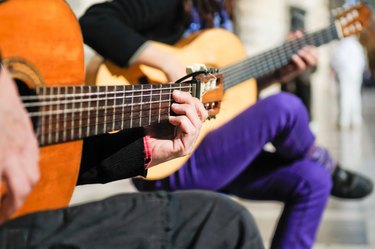 Music is essential to any anniversary party. Champagne taste on a beer budget? Invest in a good pair of iPod speakers or a dock if you don't already have them. These are available at all different price points, shapes and sizes. A great dock will not only work as a nice DJ for a party, it can serve as a stereo for years to come. If money is less of an object, consider hiring a DJ or band. Include dance-friendly songs from the mid-1960s. This was the time of dance crazes -- the twist, the pony and so on -- and your couple might enjoy teaching some of the steps to group dances like the Loco Motion. Fun and romantic songs include the Beatles' " I Want to Hold Your Hand" and several others to the Supremes' "Baby Love" and Roy Orbison's "Pretty Woman." Another great form of live entertainment is a stand-up comedian. Ensure that the comedian keeps his show family-friendly if children are present.
Slideshow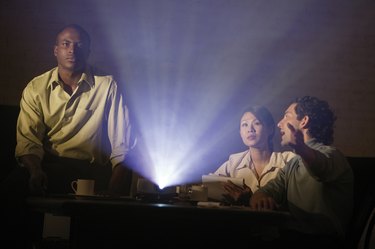 A slideshow is a great way to commemorate the guests of honor. Several months before the party, ask family members and old friends for photos featuring the guests of honor. Do not ask the couple themselves for photos; the slideshow should be a surprise. Put the photos in chronological order and set the slideshow to music. One of the easiest ways to do this is to use Microsoft Powerpoint. Some great songs for slideshows from the mid-1960s include Dean Martin's "Everbody Loves Somebody," the Righteous Brothers' "Unchained Melody," and Marvin Gaye's "How Sweet It Is." If there is video footage of the couple from their wedding or other notable events (a child's birthday party, graduation) stream that in. This may require a more complex program, like Apple's iMovie.
Toasts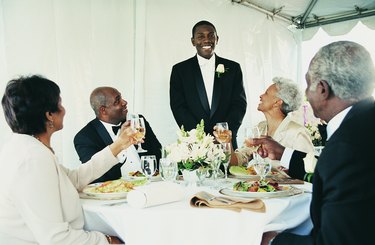 No doubt a selection of party guests will want to make a toast to the happy, celebrating couple. Arrange for all of the grandchildren, young and old, to make some sort of presentation, such as taking turns reading a poem tailor made for the couple. Try to contact friends and family members of the couple ahead of time to see if they'd like to say something to the couple during the party. Set aside a specific time after dinner but before dessert for any and all toasts.