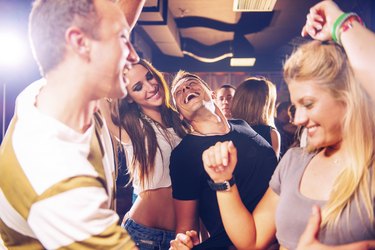 The international party theme invites you to take advantage of a mix of décor, food and fun. You can even tie the whole party together with a cruise ship idea, if you post signs at the entrance welcoming guests to a global cruise. If you are hosting an international theme party at home, consider making different rooms of your house into different countries. If you are at a reception hall, create country zones with streamers taped to the floor or ceiling.
Decorations
You can mix symbols of international travel like oceans, passports, maps and luggage using your decorations to help it look coherent. Use color themes for different countries; for example, red and green for Italy, yellow and blue for tropical locales, blue and white for Scandinavian countries, greens for Ireland, purple and gold for the Middle East, orange, red and green for Mexico, red, white and blue for the United Kingdom or United States, and red and gold for China. Coordinate streamers and balloons, and add a few specific decorations for each country. Paper lanterns or dragons symbolize China, while grapevines and red-checked tablecloths work for Italy. Use shamrocks for Ireland, tropical flowers and sun decorations for the tropics, or pyramids for Egypt.
Food
To simplify the serving and preparing of food, if you are doing it yourself, choose one basic food and change it up for different cultures. For instance, cook chicken strips or wings, but set out several kinds of sauces, such as plum, hot pepper, marinara, Bleu cheese, and sesame. Or, serve appetizers from each country so that guests get a chance at lots of different cuisines. Rangoons, samosas, nachos, shrimp dip, breadsticks or Scotch eggs all could represent different countries. You also can ask guests to bring dishes from a country of their choice for an international potluck.
Games
A costume contest, letting guests choose a costume from any country they like, brings everyone into the global spirit of the party. Be sure to have some prizes for best costume, as well as other contests for adults, like best travel story, worst travel disaster, best travel photo, or weirdest place visited. Kids can have their own costume contest. Another kids activity encourages them to let their imaginations run wild: Let them create their own countries. Provide blank paper flags and a fact sheet to fill out about their imaginary land, complete with national anthem, flower, bird, capital and language. Provide games from other cultures, like mancala or mah-jongg, and of course, you can send either children or adults on an age-appropriate scavenger hunt for international-themed items around the house or the whole town.
Entertainment
How you select entertainment depends on how your international party is set up. If you have individual spaces representing different places in the world, then each room can have its own music. Create a playlist or purchase or burn a CD for each part of the world or country celebrated in a given room. Hook up speakers to whatever music-playing devices you have or can borrow, such as Mp3 players, boomboxes and computers with CD players. Keep the music to a background level so you have cultural ambiance in each room but not a cacophony throughout the home. If your party takes place in one space, a live band or DJ is an option. Request dance music from the various countries represented at your party.