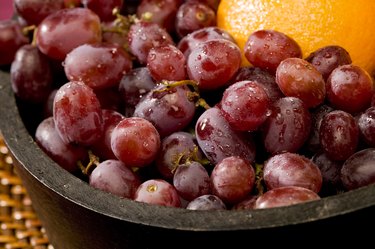 Fruit trays do not have to be elaborate productions with sculptures of tropical fruit surrounded by cascading berry waterfalls. While that would be lovely and dramatic, you may just want to set some finger food out for your guests without a lot of hassle. A simple fruit tray will be just as pleasing to the eye, since good fresh fruit is quite pretty on its own.
Melon and Cantaloupe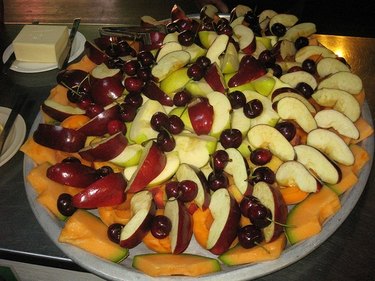 Slices of melon and cantaloupe are easy to display and are fine for both brunch and dinner parties. If you're not sure which melons are ripe and ready for eating, talk to the produce clerk at the store and she can help pick out the perfect melon. To display melons, cut them in half, clean out the seeds and slice wedges to your desired thickness. You can keep these wedges long, or slice them in half to double your servings. Using a platter, arrange a circle of the green honeydew melon around a smaller pile of cantaloupe. Sprinkle blueberries or strawberries across the platter for added color.
Watermelon is such a welcome sight early in the season that it can be served all by itself. Cut into triangular wedges and pile them on a tray. If you have room in the refrigerator, keep the watermelon cool before and after slicing to retain firmness.
Other Sliced Fruit and Berries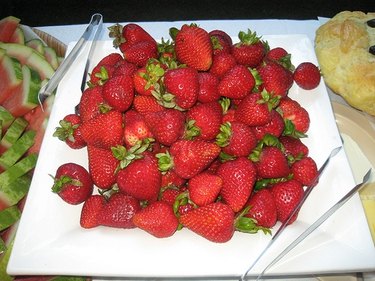 Slice apples and pears and arrange in small piles on the tray. This can be just as decorative as laying out a complex pattern of fruit, but it takes less time. Add wedges of oranges and grapefruit for display. Rub the apples and pears with lemon juice to keep the fruit from browning.
Fresh pineapple can take a little practice to cut, particularly if you want to offer the fruit without the skin. For a simple display, cut the pineapple lengthwise down the middle, then once again and cut wedges from that, leaving the rind intact. Garnish your platter with the leafy part of the pineapple. Canned pineapple can also be used; just remember to drain the liquid well to prevent pooling on your tray.
Using whole strawberries, blueberries and raspberries is a quick way to decorate any fruit tray. Garnish a tray of melons or apples by sprinkling the berries on top, or have small bowls of berries tucked onto the platter.
The Fruit Bowl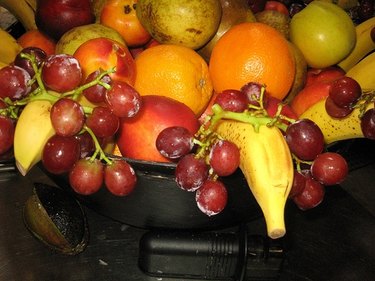 Serving clean, whole fruit in a decorative bowl is a simple way to offer fruit to your guests without having to cut anything up. This works well for an outdoor picnic or family barbecue. Pick popular fruits such as apples and bananas--and if they're in season, peaches, nectarines and apricots. Top the fruit bowl with small bunches of grapes and cherries for color and easy picking.