Things You'll Need
Watermelon

Honeydew melon

Assorted berries

Sharp knife

Melon baller

Permanent marker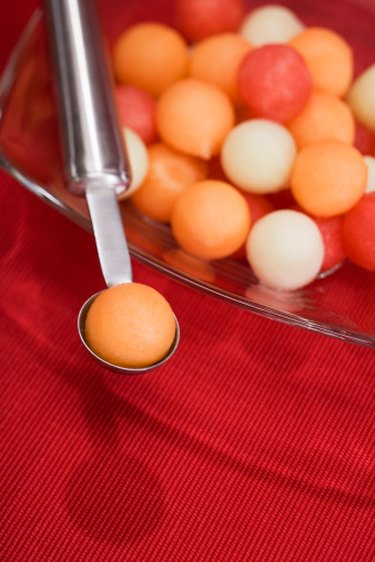 Carving fruit centerpieces for your parties or social gatherings is a great way to impress your guests. Fruit carving may seem daunting at first, but there is nothing difficult or intimidating about it. With just a few simple tools, it is easy to create a formidable masterpiece. Watermelon is a great place to begin honing your craft. Watermelons are large enough to allow for error and can be shaped into nearly anything. A watermelon basket is one of the easiest and fastest carved fruit projects for beginners and makes a big impression at parties and picnics.
Step 1
Choose a watermelon that best fits the size of the basket you would like to make. If it is your first time carving, you will likely want to choose a larger melon.
Step 2
Set the watermelon down on a counter or cutting board in front of you. Determine the vertical center of the melon. From there, measure out 1/2 to 1 inch in each direction from the center. Mark the spots by making a dot with a permanent marker.
Step 3
Make vertical cuts along each of the dots, cutting halfway through the melon. Try to make both vertical cuts as even as possible.
Step 4
Move your knife to the side of the melon, so that it is now facing horizontally. Cut horizontally toward the center until your side cut meets the end of the vertical cut. Repeat on the other side of the melon.
Step 5
Remove the cut melon wedges and set aside. Your melon should have two wedges missing on each side, a fully intact bottom, and a 1- to 2-inch strip of melon and rind running vertically down toward the intact bottom.
Step 6
Take your melon baller and begin removing balls of watermelon and placing them in a bowl. Continue until you have balled most of the melon, and in the process, hollowed out the basket. Use a large spoon to gently scrape out the remaining watermelon in the basket, and eat or discard.
Step 7
Use your melon baller to remove balls of honeydew from your honeydew melon. Mix berries and honeydew balls in with the bowl of watermelon balls. Fill the hollowed watermelon basket with the fruit. Serve.
Tip
You can further decorate your watermelon basket by shaving a design in the side with a vegetable peeler or chisel.