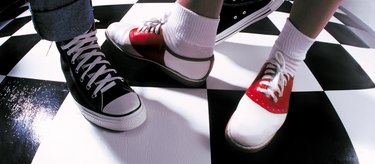 A 1950s-themed party evokes the golden age of rock and roll with dancing, milkshakes and 50s fashion. Games are another way to enliven your 1950s party. You can choose games that bring back the atmosphere of the 1950s or even play genuine party games from the era.
Hula Hooping
The hula hoop craze struck America in the 1950s, with more than one million hoops being sold in just 10 months during 1959. Hula hoop contests saw kids and adults alike competing to see who could spin their hoop the longest. Try this at your party, with a prize for the winner, but keep the contestants away from breakable objects.
Classics of the 1950s
Play a musical game involving hits of the 50s. Invite guests to name that tune or hold a lip-syncing contest. Use rock and roll classics by stars like Elvis Presley or Jerry Lee Lewis, but don't neglect less-famous artists like Dion and the Belmonts or Clarence "Frogman" Henry.
Board Games and Toys
For a quieter 50s evening, try some of the most popular games of the decade. If you can get a classic Electric Football set, fire it up and watch the little players shake their way across the field. Other popular toys of the era include Mr Potato Head and the ever-amusing Slinky. A more cerebral game would be the 1959 classic Diplomacy -- but don't play this unless you're willing to stab your friends in the back and be stabbed in turn.