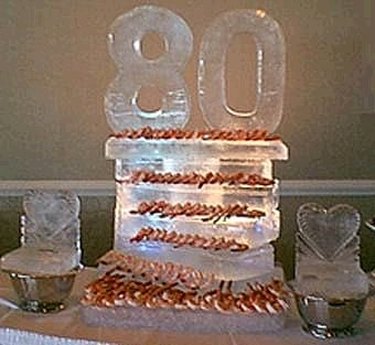 Celebrate the 80-year milestone in a loved one's life with a thoughtful centerpiece that not only says "Happy Birthday" but also adds a personal touch that shows how much you care. Just a few days of light research is bound to provide a plethora of information you can easily turn into a fun centerpiece, not to mention a conversation starter that will have family and friends laughing for hours.
A Picture Says a Thousand Words
Eighty years is a long time, and your loved one is bound to have a stash of photos depicting his life. Try finding some of the most memorable (i.e., wedding photos, first dates, the birth of a child), make photocopies onto card stock and use them as decor.
One fun way to incorporate photos would be to cut them out into different shapes, glue them onto wooden dowels or tooth picks and stick them at different heights and angles out of a plant centerpiece. For a really fun twist, you can make cupcakes and use them as personal toppers. This has been a huge hit with friends in the past.
It's also quite a nice surprise to glue them onto clear votive candle holders. You can pick up a dozen or so at your local discount store, hot glue them to the glass, and presto, a lovely personalized gift that glows the entire night.
Show Her How You Feel
At this point in life, sentiment seems to mean so much more than material goods. Instead of spending heaps of money on an expensive centerpiece, ask all of the party guests to write down a favorite memory of the birthday gal. Use colorful paper, markers and glitter to give the scraps of paper pizazz and sprinkle them over the table. Party guests will love reading each other's writing and it may stir fabulous conversation.