If you are planning a project that entails gluing Styrofoam, you need to choose the right glue. There are glues that will not bond properly to Styrofoam and may create a mess of your project. Styrofoam glue is especially made to bond Styrofoam pieces for crafts and projects. You can find Styrofoam glue at craft stores or even some retail outlets.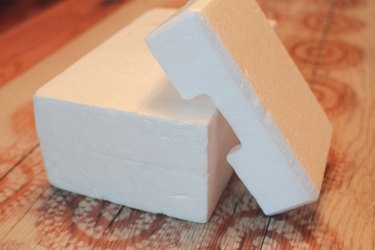 The Styrofoam used in crafts and projects is actually polystyrene foam and was invented 50 years ago by the Dow Chemical Company. This foam is actually a plastic that contains 90 percent air. It is light weight and moisture resistant. Burned Styrofoam will release pollutants into the air in the form of carbon monoxide so it is important to keep it away from any heat sources. The foam comes in various shapes--sheets, blocks, cones and spheres--to use in crafts.
The best glues to use on Styrofoam are the actual Styrofoam glues such as UHU Styrofoam glue, Weldbond and 3M 77. Styrofoam glue comes in both tubes and spray. The adhesive spray, like 3M 77, makes creating projects easier and without the mess. With 3M 77, the glue dries fast and provides permanent bonding. As for Weldbond glue, you will have to wait until the glue becomes tacky before bringing the surfaces together to ensure that it does not dissolve the foam and emit toxic fumes.
It is important not to use glues that contain solvents because these glues will melt the Styrofoam and release toxic fumes. Hot glue is one of the worst glues to use on Styrofoam, because, if applied directly to the Styrofoam, it will melt. If you just have to use hot glue, apply the glue to the object that you want attached to the Styrofoam and wait for it to become tacky before applying it to the Styrofoam. If you want to attach two Styrofoam pieces together, hot glue is not recommended. Another glue that is not recommended is LePage Pres-tite Cement. The LePage Pres-tite contact cement is a solvent-based glue that will also melt Styrofoam. There is a LePage Pres-tite Green Cement that will work well with Styrofoam. Just stay away from the Pres-tite contact cements.