The warm days of summer are perfect for outdoor entertaining. However, setting a summer buffet outside is easier said than done. Summer is known for its cold salads, watermelon, and refreshing drinks, but that hot weather makes it hard to keep your food cool. These simple tips will help your food stay ready to eat and stylishly displayed at even the hottest of summer gatherings
Layer Serveware With Ice
Keep large food items cool using just two large serving bowls, foil and ice. Start with a serving bowl or tray, and cover the bottom of the bowl in aluminum foil to keep the bowl from getting wet if needed.
Layer ice on top of the foil. Fill the bowl three quarters of the way to the top to leave room for layering the second bowl.
Sit a slightly smaller dish on top of the ice for serving, and fill with the food item you want to keep cool.
A footed bowl also makes a great pedestal for ice before layering a serving bowl on top.
The layered bowl is pretty for serving and functional for keeping that food nice and cool.
Opt For Baskets For Serving Smaller Foods
Layer small bowls inside a basket for functional serving. Line the bottom of the basket with foil and layer ice on top to prevent the basket from getting wet. Add in small bowls for serving dips, salad toppings and the like.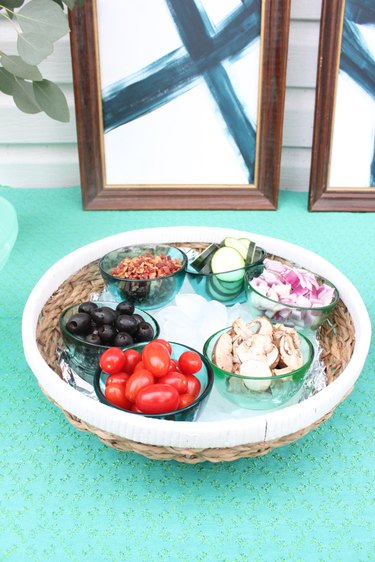 Use Frozen Fruit As Ice Cubes
Fruit is a summertime staple and can be a great addition to any summer drink. Instead of ice cubes that will quickly melt and water down your beverage, opt for pieces of frozen fruit.
Frozen fruit is great in your favorite sangria, iced tea or lemonade. As the fruit melts, it gives your drink a slightly fruity flavor rather than watering it down.
Now, you're ready for fuss-free summer entertaining where maintaining the buffet isn't even a concern. Set it, forget it and enjoy your guests and that beautiful weather.