Lasagna is a low-fuss main dish that can be modified to suit almost every taste. A crowd-pleasing amalgamation of pasta, melted cheese, hearty red sauce and meat or vegetables, it's a meal in itself - but adding a side dish can make it even more memorable. While garlic bread tends to be the go-to lasagna side dish, there are myriad options. Go for light but flavorful sides to offset the heavy main course and leave everyone satisfied, but not stuffed.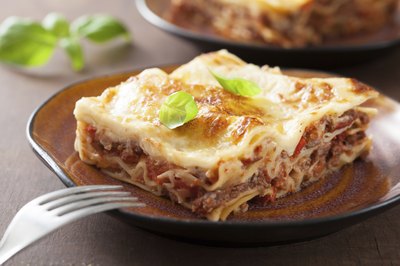 Salads
In Italian cuisine, salad goes with pasta like french fries with a cheeseburger. However, throwing a few leaves of Romaine in with some sliced tomatoes does not a proper salad make. Dress up your greens by experimenting with different bases and throwing in some unexpected ingredients. Opt for a spring-mix salad topped with pecans, dried cranberries and Gorgonzola cheese, then serve it with a balsamic vinaigrette. Or go for an arugula base under crumbled feta cheese, sliced pears and chopped red onions. Toss the mixture with extra-virgin olive oil and sprinkle with sunflower seeds. Other possible salad bases include:
Spinach
Mesclun greens
Endive
Radicchio
Frise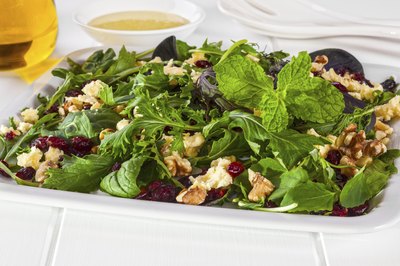 Mixed Vegetables
Complement the ooey-gooey goodness of lasagna with crisp vegetables. A platter of well-seasoned roasted veggies is light, but substantial. Chop zucchini, squash and red potatoes, then drizzle them with olive oil and sprinkle with salt and pepper. Roast the veggies until crispy. Sauteed vegetables are another option: start with spinach, then toss in chopped asparagus and mushrooms. If you're craving serious crunch, serve your lasagna with raw vegetables -- cherry tomatoes, carrots and cauliflower tossed in an Italian vinaigrette.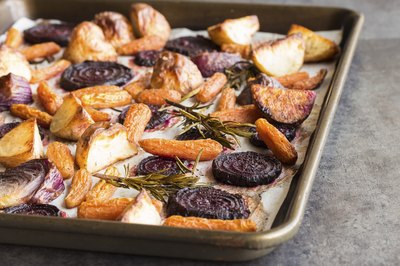 Antipasto and Caprese
Serve your lasagna with a shared side to stretch out the meal and create a cozy feeling of family-style dining. Antipasto consists of sliced Italian meats (pepperoni, salami and prosciutto), cheeses and marinated vegetables and can be purchased premade at gourmet shops to minimize meal prep. Caprese is another option; although it is usually categorized as a salad, it consists simply of:
Sliced fresh mozzarella cheese
Sliced tomatoes
Basil
Olive oil
Balsamic glaze
Salt and pepper.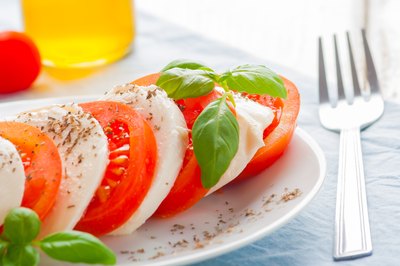 Stuffed Peppers or Tomatoes
Bell peppers and tomatoes are light and easy to prep and cook relatively quickly, and the red and green colors help reinforce the Italian feel of your meal. Cut the pepper or tomato in half, remove the insides, fill with bread crumbs, oregano and minced onions, and drizzle with olive oil. Bake until slightly droopy and serve hot. Feel free to experiment with the stuffing; if you like spicy food, for example, chopped jalapenos or paprika can give your stuffed peppers or tomatoes an extra kick.