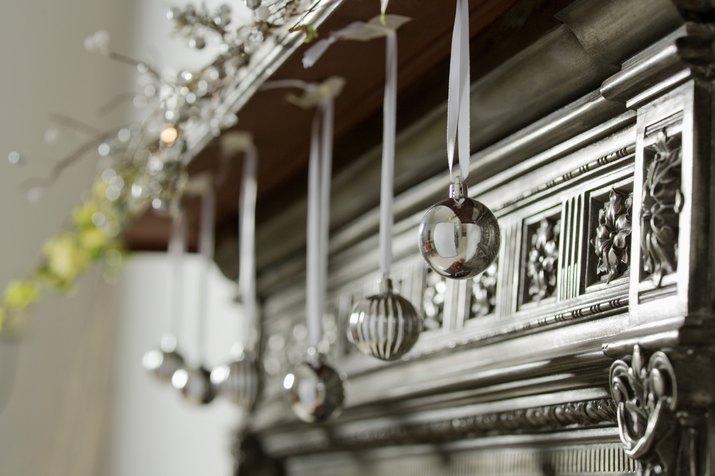 1 of 13
The mantel. It's where our stockings hang, waiting to be filled by Santa's arrival. But what about the rest of the decor? If your mantel is a little bare this year, don't fret. With a little help from leftover ornaments, sprigs of pine and repurposed cupcake trays, you can turn your mantelpiece from a drink drop-off to a place of design inspiration.
Image Credit:

Polka Dot Images/Polka Dot/Getty Images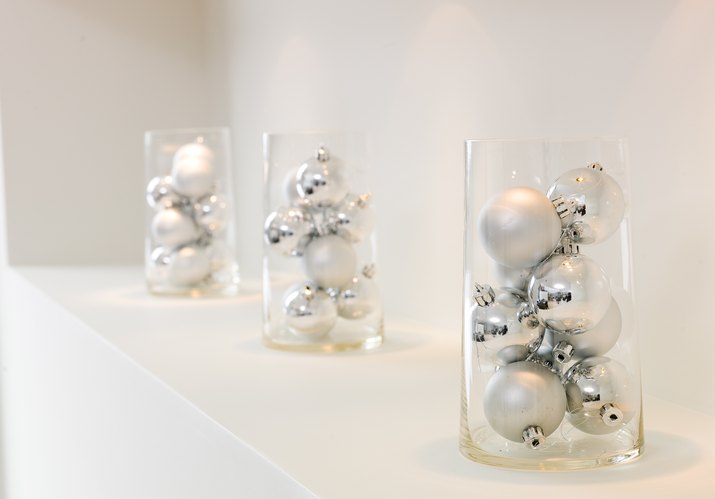 2 of 13
If you're worried you don't quite have the "design thumb" necessary for creating a magazine-like mantel, fear not. Fish out an old flower vase and pile it high with matching ornaments. Voila! Easy elegance for everyone. (This is an excellent quick fix for any unadorned surface or impromptu dinner party centerpiece).
Image Credit:

Jupiterimages/Photos.com/Getty Images
3 of 13
Wrapping gifts is a labor of love. We spend all that time tucking corners, tying bows and trying to hide the tape, only to have our work of art ripped apart. Instead of prepping just for Christmas morning, try wrapping some of your smallest gifts ahead of time and incorporate them into your decorating. If you have a wide mantel, stack the gifts high alongside your candlesticks and poinsettia arrangements, or, if you're working with a smaller space, simply tuck the smaller parcels right into the tinsel.
Image Credit:

Polka Dot Images/Polka Dot/Getty Images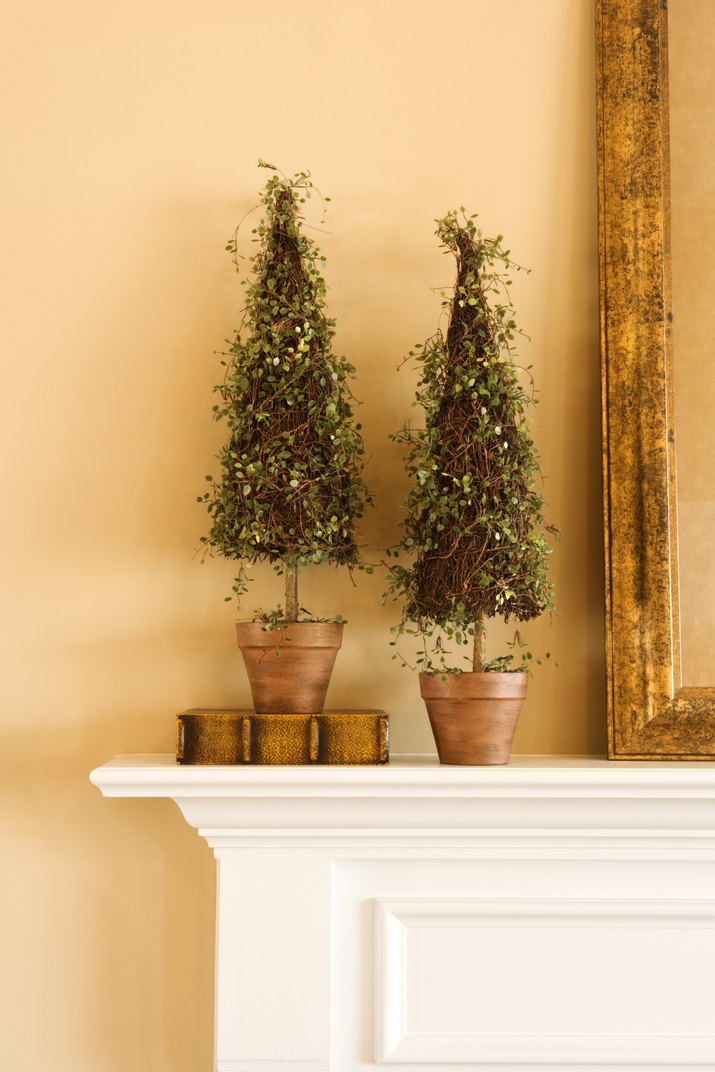 4 of 13
Don't be afraid to do a bit of feng shui. If you've got a mini tree or a topiary hanging out on your front porch, bring him in and put him on the mantel. With some tinsel, ribbon and tiny ornaments, you can turn any potted plant into a Christmas tree hopeful.
Image Credit:

Thinkstock Images/Comstock/Getty Images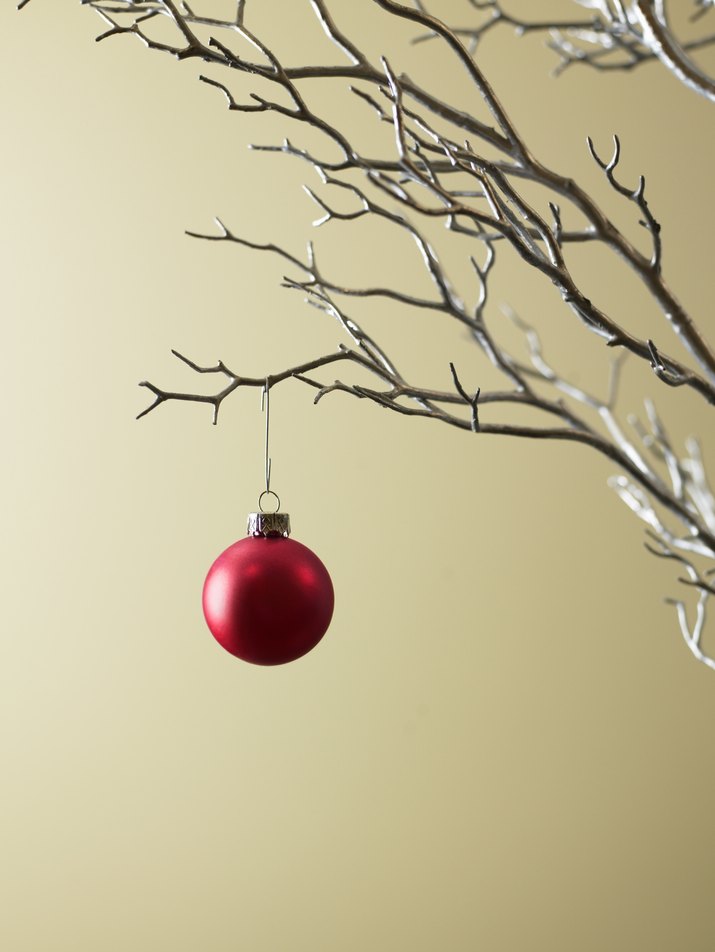 5 of 13
Turn your twigs into a "tree" by grouping them together in a vase and decorating them just like you would your evergreen. If you're going for a more modern or minimalist mantel, focus on little things with vibrant colors, such as a bright red bulb or gold trimming.
Image Credit:

Ryan McVay/Digital Vision/Getty Images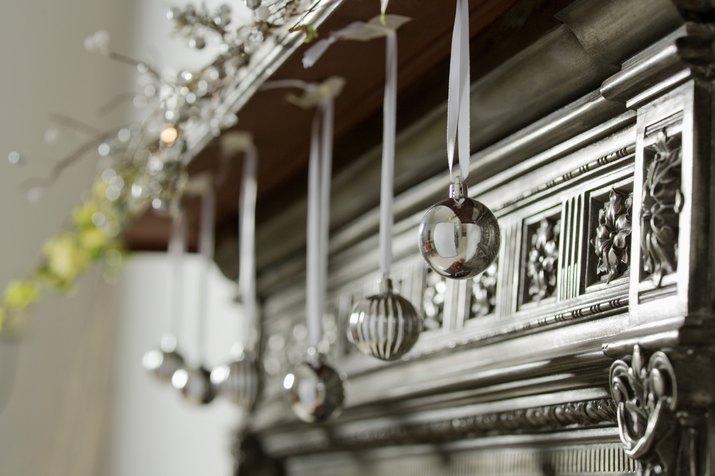 6 of 13
Ornaments aren't just for the Christmas tree. With some ribbon, tape and any leftover bobbles, you can turn your ordinary mantelpiece into a holiday masterpiece
Image Credit:

Polka Dot Images/Polka Dot/Getty Images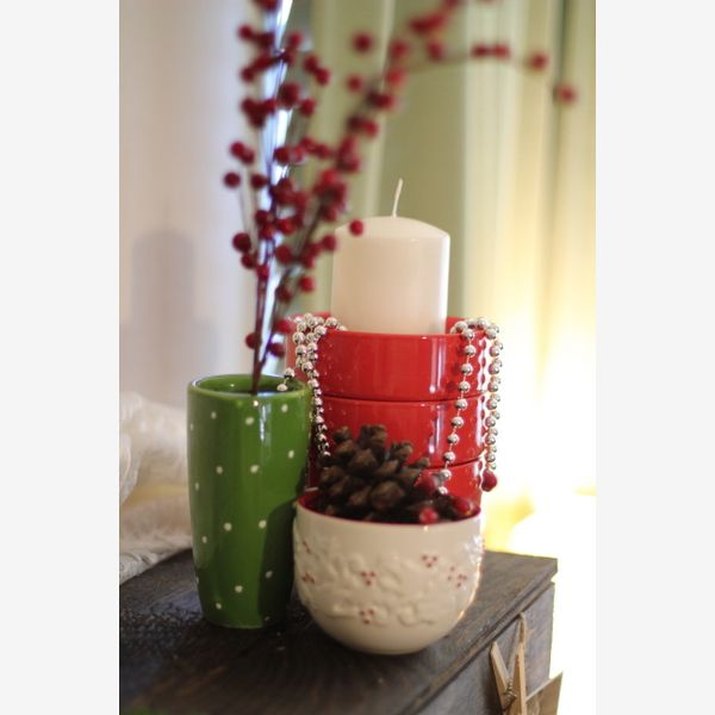 7 of 13
You know that chunky, funky mug collection you have hidden in the back cupboard? It's time to dig out the holiday-looking ones and dust off that drinkwear. Slip a little tea light inside, fill them with the ornaments that didn't fit in your glass bowl, or just line them up side by side so they can speak for themselves.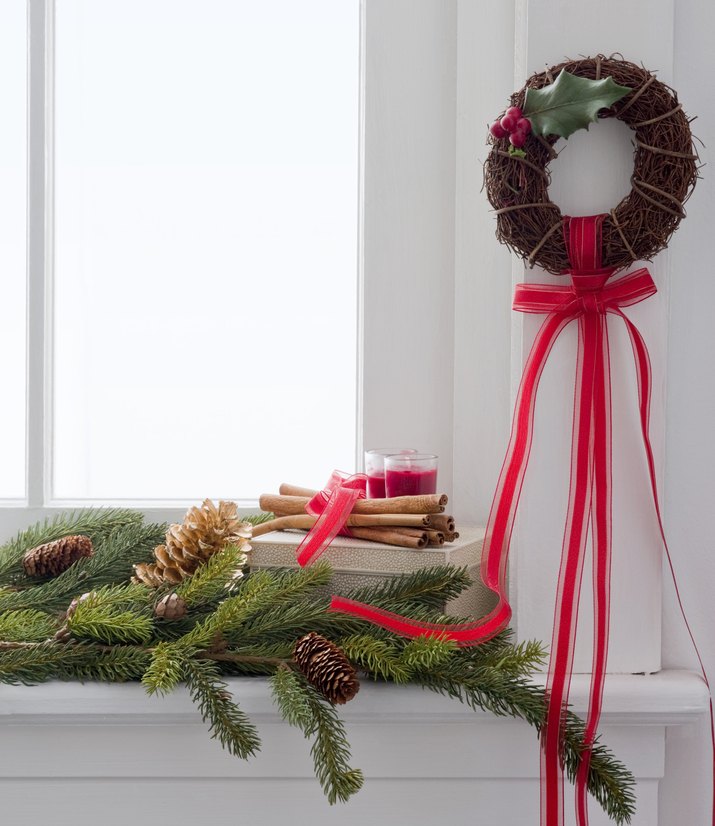 8 of 13
Cinnamon Spice and Everything Nice
Some things just smell like "holiday." Apple cider, gingerbread and peppermint all have a knack for bringing Sugar Plum Fairies to mind, but It would be bad (both for our waistlines and for the bugs taking refuge in the warm house) to keep Christmas cookies on the mantel. Go for the next best thing -- a bundle of cinnamon. You'll get all the sensory warmth without the extra temptation.
Image Credit:

Creatas Images/Creatas/Getty Images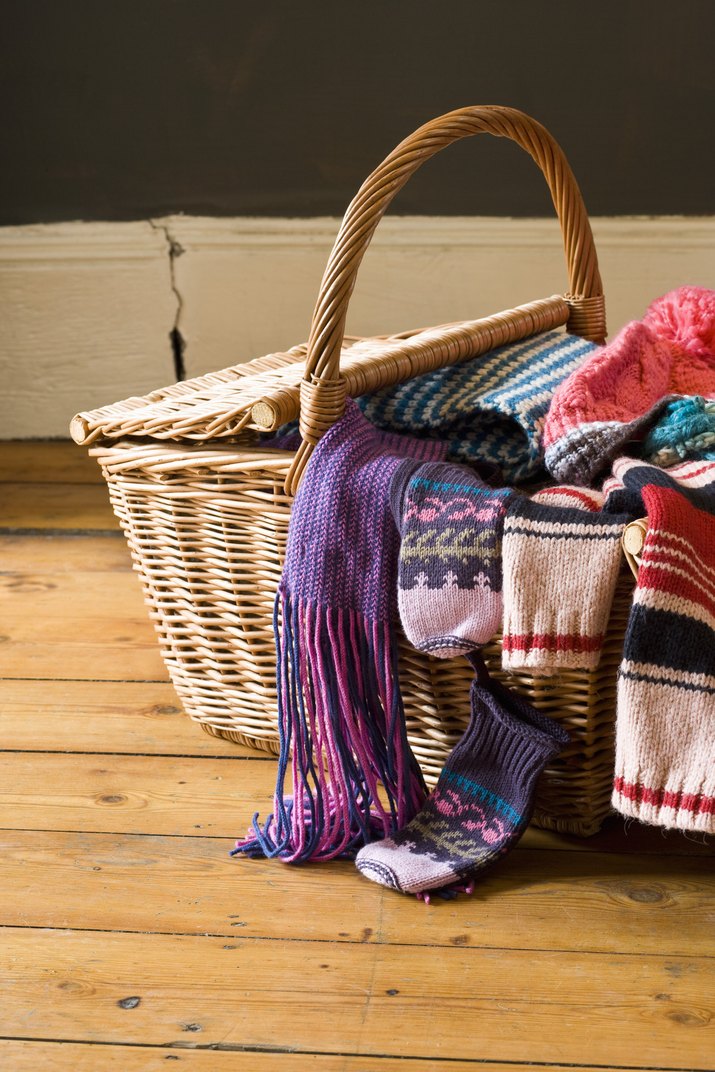 9 of 13
When you're not using them to warm your frosty fingers, hang your gloves and scarves as decorations. You can string them alongside your stockings or wrap them around the base of your other mantel decorations (think tall candlesticks or votive). Like the mugs, this mantel can serve as a last minute reminder not to leave home without your mittens.
Image Credit:

Jupiterimages/Goodshoot/Getty Images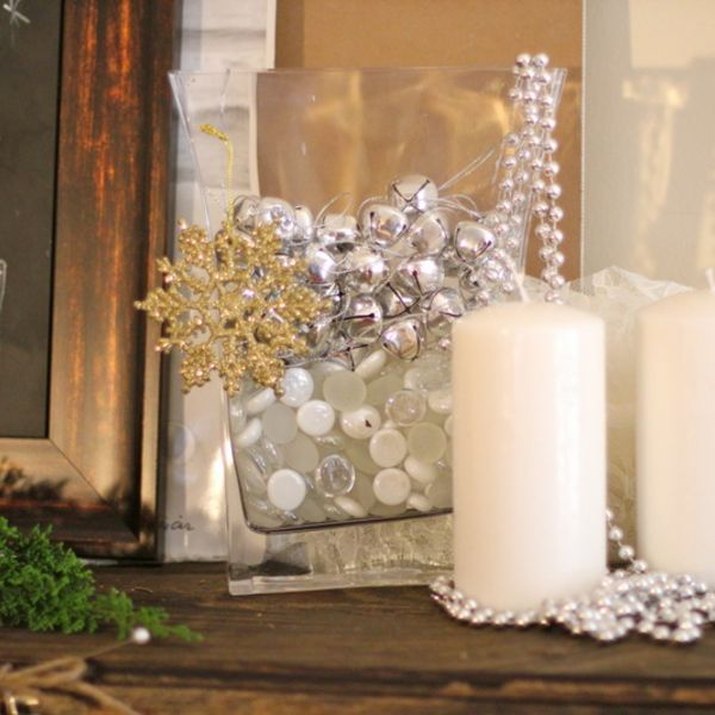 10 of 13
Jingling bells, silver bells, sleigh bells… we're not quite sure when bells became synonymous with "holiday season," but we're happy to oblige and include them in our decorating. Like the leftover ornaments, these little bells look great displayed in flower vases, glass jars or tucked in between your candlesticks and pine wreaths.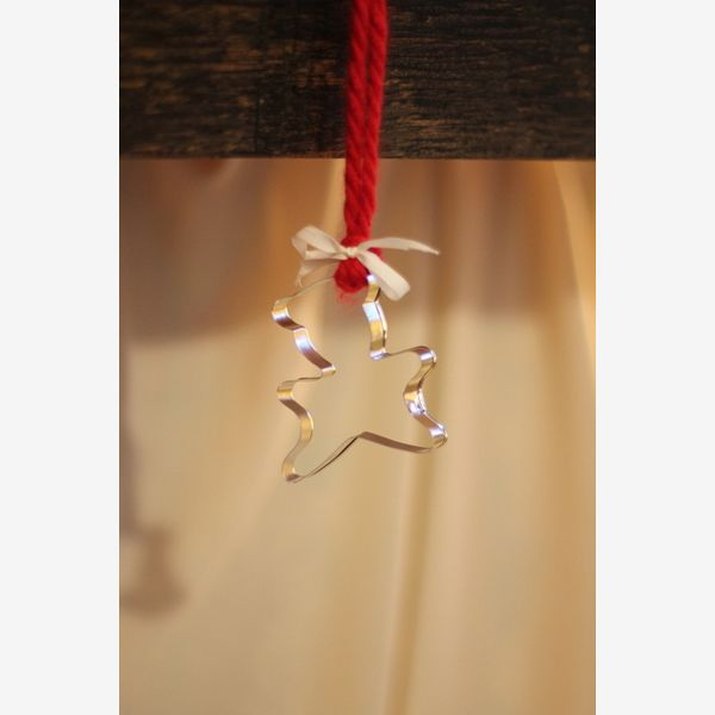 11 of 13
After the sugar cookies have all been cut, loop some red, green or gold string through your holiday cookie cutters and hang them like your ornaments. You can drape them over the side of your mantel, arrange them into a pseudo nativity, or use them as a stencil to hammer designs into your plain white candles. We like doing a little bit of each.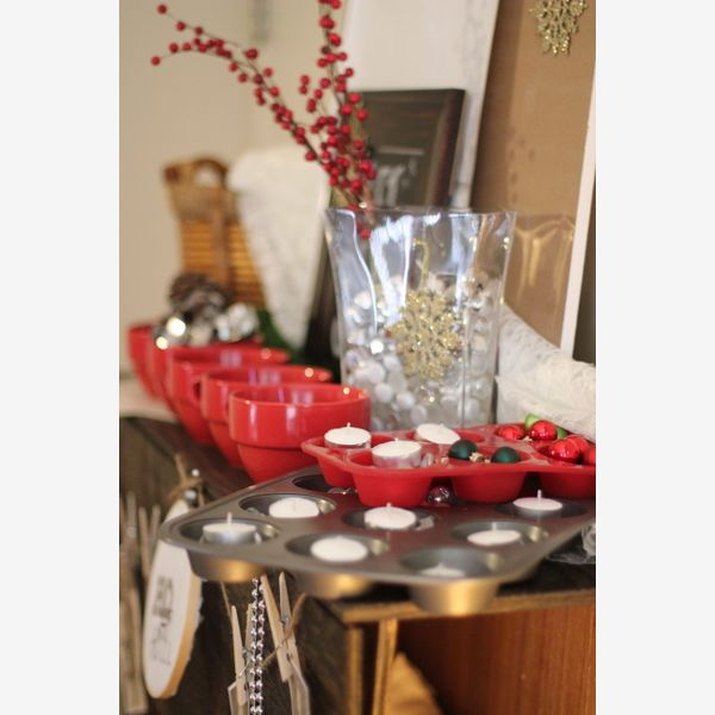 12 of 13
Bake Me Off a Piece of That
If our muffin tins could talk, we have a feeling they would be lamenting the fact that people don't have Christmas muffin exchanges. While your cookie sheets get a workout in the kitchen, put your other baking trays to good use elsewhere around the house. Fill your cupcake trays with tiny ornaments, tea lights or other festive trinkets and give your mantel some eye candy... or should we say, eye cupcakes.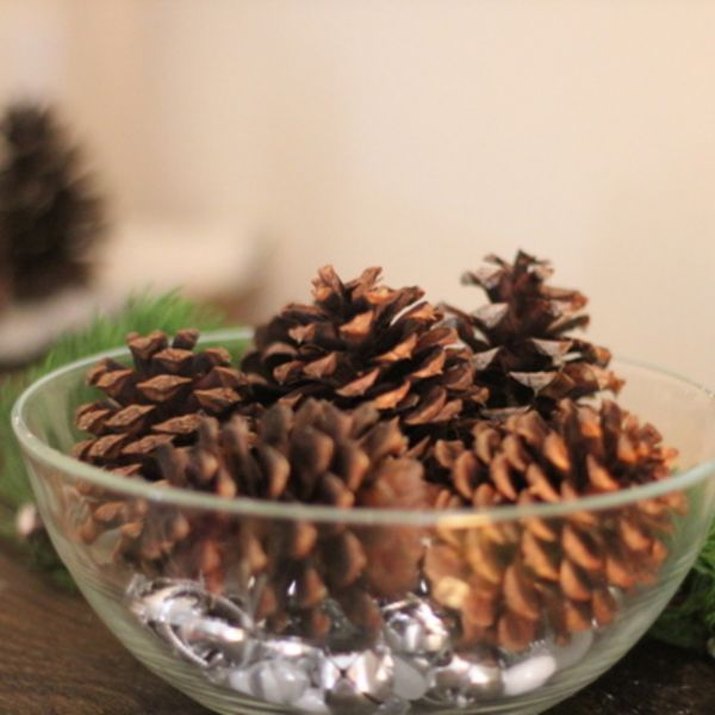 13 of 13
If you're going for a rustic look, pine cones are a must. Pile them into a basket, add them to an arrangement or just tuck them between bits of green. If you're going for chic on the cheap, spray-paint them silver or gold and call it artwork.