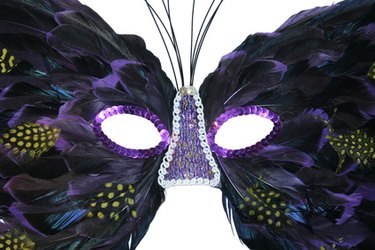 Masquerade balls are elegant and unusual--but they can also be a little boring. Oftentimes, guests show up to a masquerade ball only to find that the only planned activities are socializing, drinking, eating and occasionally dancing. However, hosts have plenty of options for putting a little zing in the evening's festivities.
Scavenger Hunt
Masquerade balls turn up all sorts of fascinating costumes and accessories, particularly if there is a costume theme. Before the ball, create a list of items (parts of costumes are a good start, for example, "pink feathers") for guests to find as a scavenger hunt. Take into account the ball location; for example, if it's at a large, old house, take a look at the home's artwork for ideas. After all the guests have arrived and everyone has had a chance to greet one another, announce the scavenger hunt. Divide guests into teams (do this before the ball using the guest list) and give them a specified length of time to find the items on your list. Keep in mind that guests' finery will likely prevent them from climbing or running, so pick items accordingly. Award a prize to each member of the winning team--perhaps a small bottle of wine.
Promenade
Give a nod to traditions of the past with an old-fashioned promenade at your masquerade ball. Here's how it works: when they arrive, ladies receive small "dance cards" with a tiny pencil attached. The cards have 10 (or whatever number you wish) spaces for names of promenade partners (gentlemen). It's up to the gentlemen to approach the ladies and request a space on her card. (You can make this interesting by involving no words, just pre-determined signals. Ladies won't know their partner's name, just his costume.) Once cards have been filled, announce at periodic intervals that it's time for a promenade. Partners find one another and take a walk together around the dance floor or grounds. For a little competitive fun, you can award small prizes to the partners who figure out one another's identity without using words.
Dance Lessons
If you have the space and budget, dance lessons can be an excellent way to get everyone feeling comfortable with getting onto the dance floor in their costume. Enlist the services of a local dance teacher to teach the guests old-fashioned dances, such as the minuet. Dancing this famous dance will cement the feeling of having briefly stepped back in time.
Silent Auction
If you have a sizable guest list or the ball is a large social event, look into having a silent auction. Ask members of the business community to donate goods or services for the auction, with all proceeds going to benefit a local charity. Arrange the items around the periphery of the largest available room and place bidding forms next to them. To preserve everyone's secret identity, consider handing out numbers at the beginning of the ball so that guests can put their number, rather than their name, on the auction form.