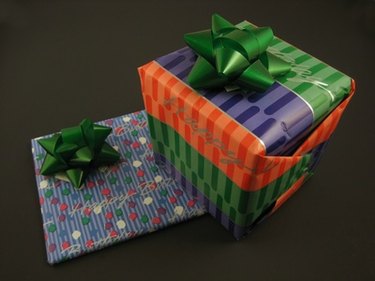 Choosing the right 39th birthday gift can be tricky. The recipient has not yet reached that milestone of 40 (for which there are countless age-specific gifts on the market), but they have far outgrown tacky gifts aimed at teenagers and young adults. With some careful thought about the birthday boy are girl though, there are plenty of unique and appropriate gifts available for 39-year-olds.
Gag Gifts
While your friend or loved one still has another year before that 40th birthday hits, you can still rib him a little bit with an over-the-hill themed gag gift. A plastic cane or a pair of reading glasses will remind him that he only has another year until he is officially out of his 30s. If you're looking for a dramatic gag gift that makes a statement, buy 39 pink flamingos or helium balloons to decorate his front lawn or home.
Commemorating 39 Years
Your gift recipient won't remember what life was like 39 years ago, so you can remind her with a gift commemorating the year of her birth. Many companies produce cards with fun facts about a specific year or CDs featuring the top hits from 39 years ago. You could go to the library and make a print out of the front page of a newspaper from her birth date and frame it. If you are a longtime friend and have a lot of photos or keepsakes from your time together, make a scrapbook commemorating the past 39 years of her life.
Gifts of Indulgence
Most 39-year-olds have busy family lives and/or careers and want to be able to relax with grown-up pleasures. If your friend likes wine or spirits, buy him a nice bottle (perhaps a 39-year-old vintage) or a set of special glasses. A box of dark chocolates or fine coffee also speaks to grown-up indulgence and the finer things in life.
Homemade Gifts
A homemade gift always tells the recipient that you care enough to put in the effort to make something yourself. Gifts of food, such as a gourmet birthday cake with a big "39" on it, are usually well-received. If you are skilled as an artist or are proficient at a particular craft you can make a special item, inscribing "Happy 39th Birthday" on your masterpiece.