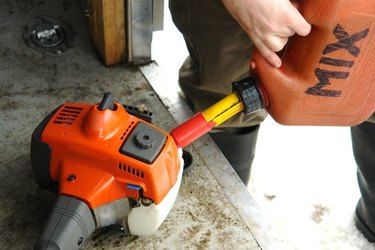 Founded in 1921 by Charles Ferguson, the Homelite company manufactures string trimmers, blowers, chainsaws, hedge trimmers, pressure washers, water pumps, generators and other outdoor accessories. Currently, Homelite tools are sold exclusively at the Home Depot. The Homelite SX-135 is a string trimmer model used for landscaping, weed removal and other lawn maintenance that was sold in the 1990s. Comparing product specifications is one way to determine if a particular string trimmer will meet your lawn and garden needs.
General
According to the "Homelite Dealer Service Guide," SX-135 trimmers boast a 50-minute run time. The trimmer also comes with a two-year limited warranty.
Fuel System
The SX-135 is equipped with an all-position diaphragm carburetor with a primer bulb. It utilizes piston port induction intake, a push-button engine shutoff and trigger throttle control. The air filter is foam. The trimmer requires premixing gasoline and 2-cycle oil in a 50:1 ratio. While any automotive gasoline is appropriate to use, an unleaded gasoline without alcohol may produce the best results. Homelite recommends operators use Homelite 2-cycle oil.
Engine
The Homelite SX-135 features an air-cooled, 2-cycle, single-cylinder engine. The ignition is a one-piece capacitor discharge, and the muffler is a dual chamber with soft tone. The engine displacement is 1.5 cubic inches or 25 cc.
Torque
A few of the numerous torque specifications include a 15 to 25 inch pound spool retainer, a 250 to 300 inch pound shaft adaptor, two 90 to 100 inch pound clutch discs and a 100 to 150 inch pound drive connector. The SX-135 also contains numerous screws and washers of various sizes and torque limits. These materials are applied to the heat dam, control handles, clutch control, starter housing, crankcase, throttle cable bracket, carburetor, gear head, driveshaft housing, muffler, cylinder and baffle cover among others.
Ignition
If starting the SX-135 while the engine is cold, the operator should engage the primer bulb 8 to 10 times, set the choke lever to choke position and pull the rope while holding the trigger up to six times until engine tries to start. The choke should then be moved to the half choke positions and the rope pulled again until the engine runs. The "Homelite Dealer Service Guide" recommends running the engine 30 to 45 seconds at full throttle before moving the choke lever to the "Run" position. If the SX-135 is warm while starting, the operator can immediately move the choke to the run positions and pull the rope until it starts.