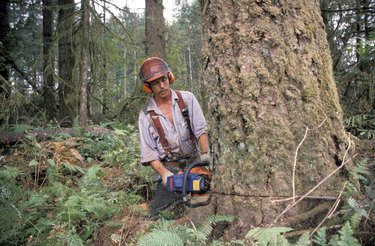 The Homelite Super XL AO chain saw, also sometimes called the Super XL Automatic, was positioned in Homelite's product line as a step up from the XL-12 model. The Super XL featured a larger engine than the XL-12, as well as some upgraded features that made it a more capable but heavier saw than the XL-12.
General Specs
The Super XL AO is equipped with a single-cylinder, two-cycle engine with a displacement of 3.55 cubic inches. The saw was equipped with different carburetors at different points during its production run; the carburetors included models manufactured by Tillotson, Walbro and Zama. The saw features an automatic-rewind recoil starter and solid state ignition. The weight of the saw's powerhead with no guide bar attached is 13 pounds, 14 ounces, which is more than a pound heavier than its sibling model, the XL-12.
Guide Bars and Oiler
Homelite delivered the Super XL AO with either a 16-inch or 24-inch guide bar. The "AO" in the Super XL AO's model name refers to the automatic bar oiler with which the saw was equipped, the upgrade that was one of the primary differences between the Super XL and the XL-12. The Super XL also featured a manual oiling mechanism that could be used to override the automatic oiler.
Raker III Chain
The Super XL AO and the XL-12 were equipped with the 3/8-inch-pitch Raker III chain. The chain incorporated three depth gauges, or rakers, for each cutter on the chain, in contrast to conventional chains, which typically only had one depth gauge on each cutter link. The goal of the chain design was to reduce the chance of saw kickback by preventing the chain from cutting too deeply and binding in the cut.
Safety Devices
To further reduce the possibility of dangerous kickback, Homelite equipped the Super XL AO with a Safe-T-Tip Anti-Kickback device. The device is a guard that bolts to the tip of the guide bar and covers the chain where it wraps around the nose of the bar. The guard prevents the operator from cutting with the top side of the tip of the bar, the situation in which kickback is most likely. The saw is also equipped with a hand guard that protects the operator's hand where it rests on the handlebar, but the saw has no chain brake mechanism.