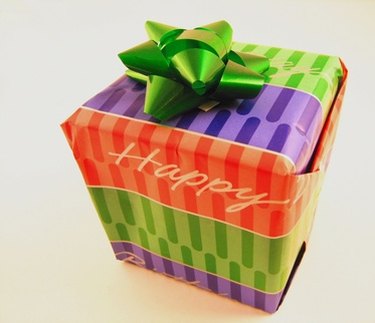 Buying a gift for a 19th birthday can be tricky. Although considered an adult, the birthday celebrant has still not yet reached the age of 21 which offers more rights and privileges. Many 19-year-olds are enrolled in college or working. Give them a gift which will be useful in their busy daily life, such as cash. Alternatively, create a homemade sentimental gift to mark the end of their teenage years. What you give will depend upon your relationship, budget and taste.
Memory Box
Turning 19 marks the final year in life as a teenager. If you are buying a gift for a friend, then create a memory box filled with items to remind them of their teenage years. This could be old photographs, a piece of clothing that they would rather forget or a CD of their favorite music from several years ago. Make the box as humorous or sentimental as you choose. Use your imagination to fill it with items that will make for a truly special gift.
Jewelry
Jewelry can be sentimental as it serves as a reminder of a special occasion or time in a persons' life. Have a piece of jewelry engraved with a short message or phrase to mark their 19th birthday. For girls, a locket with a photograph or bracelet can easily be engraved. For boys choose a watch for a special birthday gift.
Gadget Accessories
Many teenagers rely on technology and gadgets a great deal to get them through everyday life. Although you may not be able to afford a new cell phone or laptop, buy them an accessory which updates their current one. From cell phone cases and laptop cases there are lots of ways to inject new life into an item they use daily. Alternatively, college students on a tight budget will appreciate a pay as you go cell phone certificate or mp3 gift card.
Cash or Gift Certificate
Many 19-year-olds who have just entered into work or are still studying at college are short of money. If you would rather not give cash as a gift, then buy a gift certificate for their favorite store so they can choose an item they really want or need. Although it may not appear the most imaginative, it is certainly a useful gift they will be grateful for.