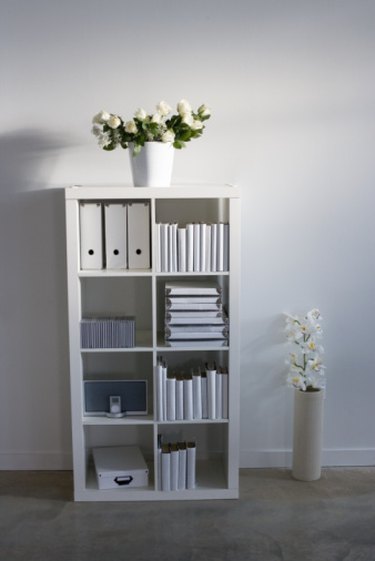 Tall floor vases are decorative pieces that hold minimal to large, impressive floral arrangements. The vases are formed from glass, ceramic, wood, bamboo, porcelain, metal or crystal materials. Modern vases are made in cylinder, square, round and artistic shapes. Antique containers are used to decorate formal or period rooms. Single long stem or full arrangements of flowers are chosen to compliment the vase and decor of the room.
Fresh Florals
Fresh-cut gladiolus, orchid sprays, iris, carnation, tulip and tall stemmed flowers including roses fit into tall floor vase arrangements for home and party decor. Exotic tropical bouquets of bird-of-paradise, anthuriums, orchid, heliconia and ginger are striking in a vertical, fan or oval arrangement in a tall vase. A fresh season floral arrangement in a separate container is set into a tall floor vase that has a weighted bottom.
Silk Flowers
Silk flowers are easily manipulated into shapes conducive to the Hogarth or S-Curve floral arrangement for an elegant tall floor vase. Silk flowers are made with long stems up to 7 feet tall which work well for vertical, triangular and oval tall vase displays. Single flower sprays or a mixture of floral stems make long-lasting arrangements.
Dried Arrangements
Dried flowers and grasses are favored for long-lasting round or fan-shaped arrangements in a tall floor vase. Commonly used dried flowers are long stem hydrangea, carnations, roses, zinnia, rudbeckia, sunflower, globe amaranth, salvia, brown-eyed Susan and statice. Wheat, grasses, cedar and cattails are added to fill the in floral arrangement.