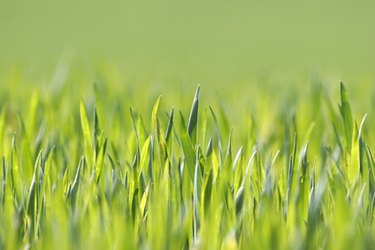 The John Deere L110 is a full-size riding lawn mower. These mowers were in production from 2002 to 2005. The L110 was designed to be more comfortable and durable than previous models. These gasoline-powered riding lawn mowers are a popular mower for people with less than three acres to mow.
Engine and Transmission
The John Deere L110 has a one cylinder, Kohler engine that produces 17.5 horsepower. This overhead-valve engine has full pressure lubrication and a spin-on oil filter. The 2.1-gallon fuel tank is located at the rear of the mower. This mower is equipped with a one-level choke system and a 15-amp regulated charging system. The L110 transmission is an automatic transmission.
Controls, Speed and Tires
The L110 has two-foot petal controls for easy acceleration and breaking. The cruise-control option makes it easy to mow large areas of land. The maximum forward speed on a L110 is 5.5 miles per hour. The maximum reversing speed on this model is 3.2 miles per hour. The tires factory-installed tires for a L110 are 15x6-6s in the front and 20x8-8s in the rear.
Durability
These mowers are made with a cast-iron front axel and a welded rail frame that extends the length of the vehicle. The hood of the L110 is UV-resistant, dent resistant and rust proof.
Performance
The John Deere L110 has an 18-inch turning radius and the 42-inch mower deck can be converted for mulching or bagging. This model has an uncut radius of 25 inches. With the L110, you can choose from seven mower height positions that are in increments of .5 inches.
Dimensions
These lawn mowers are 60 inches long, 38.6 inches high and 36 inches wide. A John Deere L110 weights 462 pounds. The seat back height on this model is 11 inches and front/ back seat adjustment spans 6.5 inches.
Comfort
The L110 was designed to provide a comfortable ride. This model comes equipped with floor mats, storage pocket, hours mowed meter, cargo mounting system, service information decal, Cup holder and tool tray. Headlights are also another feature of this mower that allows you to mow at any time. The padded seat allows for cushion when on the mower long hours and lets you change position with the engine running. The longer design of the L110 has a spacious step through area that makes it easier to get on and off the mower.