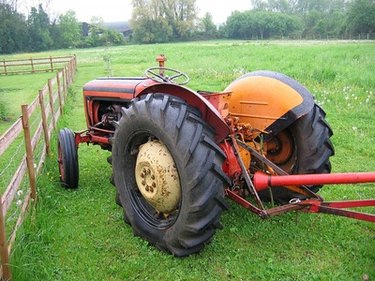 The Woods RM550 is a rear-mount finish mower suitable for lawn and grass mowing but not heavy weeds or rough conditions, according to the operator's manual. The mower is connected to a tractor with a standard 1 and 3/8 inches 6 bolt spline driveline having a QD (quick disconnect) yoke. There is also a Woods model RM550-2 available with faster blade speed.
Cutting Width and Height Range
The cutting width is 60 inches. The cutting height range is 1.5 to 6 inches.
Shipping Weight
The approximate shipping weight is 500 pounds.
Blades
There are three blades and three blade spindles. The blades spin at 2,776 revolutions per minute (RPM). The speed of the blades is 15,080 feet per minute (FPM). The rotation of the blades is clockwise, viewed from the top of the attachment.
Other Specifications
The caster wheels are 3.5 inches wide x 10.25 inches in diameter. The mower frame thickness is 8 GA (gauge, or gage).
Operation
The tractor power take-off (PTO) speed is 540 revolutions per minute (RPM). The recommended maximum tractor horsepower is 35. For most conditions, the recommended mowing speed is from two to five miles per hour.