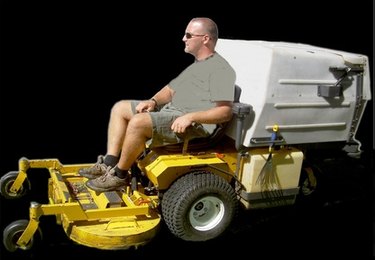 Kawasaki's FD series of engines are designed to be high-torque powerplants for use in compact installations. The Kawasaki FD620D, sometimes also known as the 620, is an FD series engine that often sees service in riding mowers, including zero-turn mowers and lawn tractors.
Engine Type
The Kawasaki FD620D is a liquid-cooled, gasoline-powered V-Twin engine with a four-cycle horizontal shaft and overhead valves. This engine features pressurized lubrication, an electronic spark ignition and a single carburetor with a fuel shut-off solenoid. It also features switches for oil pressure and water temperature, as well as a dual-element air cleaner.
Measurements
The Kawasaki FD620D engine has a displacement of 617 cc, and a compression ratio of 9.0:1. The cylinder bore in this engine measures 78 mm, with a 68-mm stroke.
Performance Data
The Kawasaki FD620D engine is capable of producing a maximum 20 horsepower at 3,600 rpm. It can also generate a maximum 32.9 ft.-lb. of torque at 2,200 rpm.
Capacity and Weight
The Kawasaki FD620D can hold 1.6 qt. of oil with a filter equipped. When not equipped with a muffler, it has a dry weight of 104 lbs.