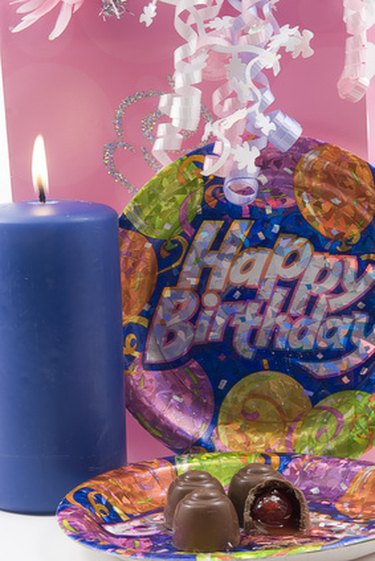 A birthday is an exciting and special time for most people, regardless of their age. It's a chance to celebrate another year of life and the beginning of a new chapter. Although many people choose to celebrate a birthday by having a party or spending the day with family and close friends, there are other random things to do on your birthday to make your big day memorable.
Relax
Birthdays don't always have to be spent with other people. Spend your birthday night relaxing around your home. Light some candles, turn on relaxing music and run a hot bath. Spend the evening soaking in the bath while having a glass of wine. After the bath, order dinner from your favorite take-out restaurant, and enjoy your meal while watching a favorite movie.
Pampering
Spend your birthday getting pampered at a salon and day spa. Begin your day of pampering with a half-day of beauty--receive a relaxing full body massage, sugar scrub, manicure, pedicure and seaweed facial. After the day spa, treat yourself to a light lunch before heading to the salon for a complete face and hair makeover. After the salon, join your loved ones for dinner at your favorite restaurant.
Skating
Spend your birthday with friends skating at a local ice skating rink or indoor rollerskating park. Divide the guests into teams or groups, and see which team can last the longest on their feet. Party guests can also join together in a conga or relay line to see who has the best rhythm on wheels. For a more humorous time, have everyone dress in formal wear or clothing matching a specific theme.
Give Back
Instead of doing something for yourself on your birthday, spend the day performing an act of kindness or giving to someone else. Volunteer to serve dinner at a homeless shelter or soup kitchen, give one of your birthday gifts to someone less fortunate, donate money to a charity, give blood to the Red Cross, sign up to be an organ donor, do crafts with senior citizens at an adult day center or bring balloons to a sick person at the hospital.
Do Something New
Spend your birthday learning a new skill or doing something you have always wanted to do. Some ideas include taking a cooking lesson, learning to make candles, taking an art class, signing up to learn a new language, getting a tattoo, cutting or dyeing your hair, registering to vote, learning to swim, skydiving, going on a cruise, planting a tree, singing karaoke in public, reconnecting with an old friend, sponsoring a child, hiking the mountains, white-water rafting or flying across country.
Party
Although parties are a common way to celebrate a birthday, do something different by having a party with a theme. Some options include a backyard barbecue, beach party, cowboy ho-down, Hollywood look-alikes, toga party, Hawaiian luau, casino night, birth year theme, pizza party or pajama party. Make sure the food and decor also fits your party theme.