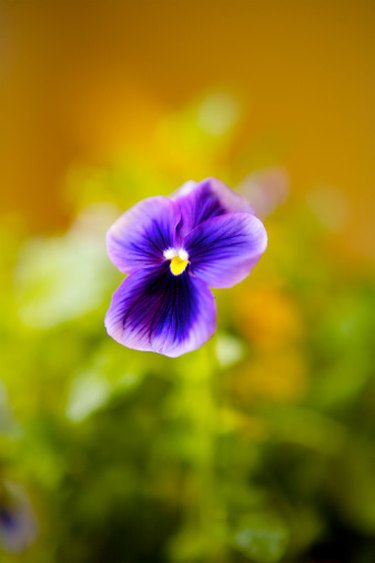 The U.S. Department of Agriculture Plant Hardiness Zone Map places Georgia in zones 7 and 8. Although temperatures do drop below freezing in the winter, you can plant some flowers in early spring, and some perennials may bloom as early as February. Check the seed package instructions for recommendations for your location.
Pansy
The pansy (Viola x wittrockiana) is widely available and adapts to most growing conditions. However, these annuals do require some care to keep them attractive. The plant produces blue, yellow or white blooms in spring, fall and early winter. They grow about 12 inches tall, making them ideal for borders or containers. Pansies need at least some sun and well-drained soil. In most locations, you will need to apply fertilizer each month and remove spent blooms each week.
Hyacinth
Refrigerate hyacinth (Hyacinthus orientalis) bulbs for 10 weeks before planting. Plant them in the late fall, through December. Fragrant purple or dark blue flowers on upright spikes will bloom in the spring. They grow 8 to 12 inches tall and make good borders or groupings in the garden. The hyacinth needs well-drained soil and full sun or partial shade. The blooms last longer in the shade than in full sun.
Bleeding Heart
Bleeding heart (Dicentra Spectabilis) produces delicate flowers shaped like hearts. The white or pink flowers bloom in April and grow as tall as 2 feet. They require well-drained fertilized soil and prefer some shade. In the summer when the flowers are gone, the leaves die back, leaving the garden spot bare.
Lenten Rose
According to the Jim Midcap of the University of Georgia, the Lenten rose (Helleborus Royal Heritage) begins blooming in January, adding bright color to winter gardens. The plant grows up to 18 inches tall and produces clusters of white, rose or mixed flowers. This perennial needs partial shade and occasional water during dry periods.
Purple Coneflower
Purple Coneflower (Echinacea purpurea) produces large fragrant purple flowers on plants up to 3 feet tall. These flowers attract butterflies, birds, and bees from the middle of summer through October and are often used in arrangements. This fast-growing annual needs at least partial sun and some moisture. It does well in most kinds of soil. Leave a few flowers on the plant to have it reseed itself.
Pinkshell Azalea
Pinkshell azalea (Rhododendron vaseyi) is a flowering shrub that grows 5 to 15 feet tall. In the winter, it loses its leaves. Soft pink flowers bloom before it leaves out in the spring. Pinkshell azalea will thrive in most soils, but needs at least partial sun.
Periwinkle
According to the Shane Smith and Steve Scott of Cheyenne Botanic Gardens, periwinkle (vinca minor) provides the perfect ground cover for deeply shaded areas. This fast-growing plant will cover the ground with a dense mat of green shiny leaves and produce blue flowers in the spring.