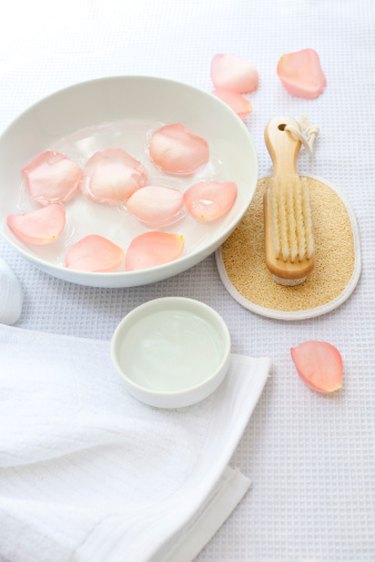 A spa party is entertaining for women and girls of all ages. Invite guests over to be pampered and hang out with other women. It's the ideal way to relax whether it's for a birthday, holiday or no occasion at all. Treat guests to the spa experience in your own home. It's cheaper than going to an actual spa and will be more comfortable for everyone. Make your own spa creations or purchase treats to spoil your guests.
Setting The Scene
First you'll need to set the scene for relaxation. This means you'll need lots of candles, a player that you can play soft music on, plenty of pillows and comfortable seating space, and robes and slippers for guests to wear. Decorate if you like, but it would be best for a spa party to keep the decor very minimal so it won't interfere with the relaxation. Some fresh flowers in simple glass vases on the tables should be all the decoration your spa party needs.
Spa Fun
You'll need lots of spa supplies to get the party rolling. Creams and exfoliating masks for facials, cucumber slices for eyelids, cooling gel masks, nail polish and files for manicures and pedicures, and scented lotions. Decide what treatments you want to offer and stock up accordingly. If you know you're doing massages, buy massage oil and have a sheet on hand. For facials, face creams and moisturizers and maybe some scrubs are necessary. Have several colors of nail polish for guests to choose from for their manicures, and maybe some small tubs for a foot bath, in which case you'll also need bath salts. Don't forget towels. If you want to have someone doing hair, which is a huge hit with younger girls, have ponytail holders, barrettes and hairspray, as well as brushes and combs.
Food and Drink
Spa party food should be simple and healthy. Finger sandwiches, sliced fruit and raw veggies with dips, and salad are all good options. You can offer nuts as well. Serve mineral water to drink with lime garnishes. Offer guests powdered diet drink mixes to mix with cold filtered water, low-calorie sodas and flavored teas. Yogurt, cheese slices and crackers are healthy snacks for guests to nosh on. Don't ignore the desserts: you can have mini-muffins, or low-fat brownies and cookies -- or just go for it and have some decadent desserts. After all, it's a party.
Favors
Don't send guests home empty-handed from your spa extravaganza. Fix up little drawstring bags with miniature bottles of lotion or bath salts, a loofah, some lip balm and a healthy snack like dried fruit pouches or a granola bar. A tiny bottle of nail polish along with some colorful nail files would make a pleasing treat as well. Tea bags or bath bombs would make a nice addition to a favor bag.